Ancient World History
Page
2
Held greater power than the emperor of Japan
A cultural contribution of the Chinese
Came to Australia from Asia
The Khmer empire borrowed this idea from India
The way through which Asoka's peaceful ideas were spread from India to other regions
Slide 17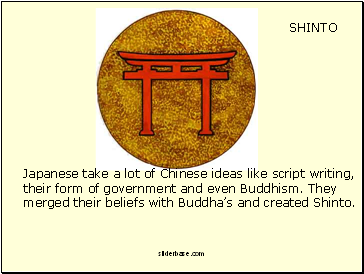 SHINTO
Japanese take a lot of Chinese ideas like script writing,
their form of government and even Buddhism. They
merged their beliefs with Buddha's and created Shinto.
Slide 18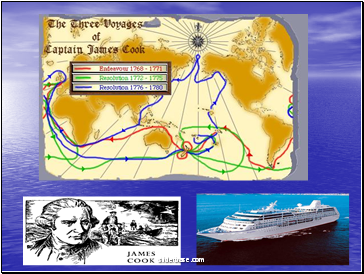 Slide 19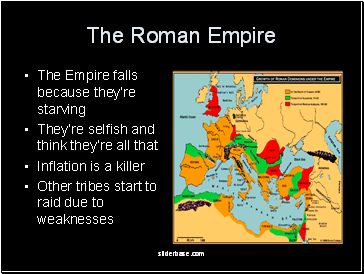 The Roman Empire
The Empire falls because they're starving
They're selfish and think they're all that
Inflation is a killer
Other tribes start to raid due to weaknesses
Slide 20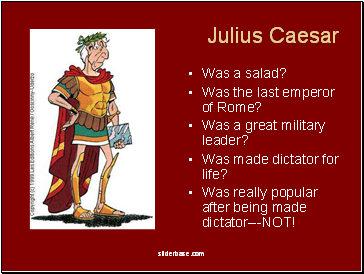 Julius Caesar
Was a salad?
Was the last emperor of Rome?
Was a great military leader?
Was made dictator for life?
Was really popular after being made dictator---NOT!
Slide 21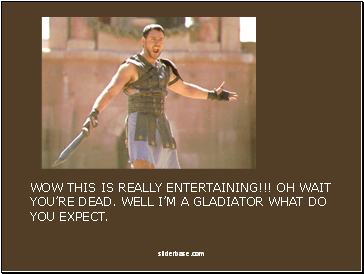 WOW THIS IS REALLY ENTERTAINING!!! OH WAIT YOU'RE DEAD. WELL I'M A GLADIATOR WHAT DO YOU EXPECT.
Slide 22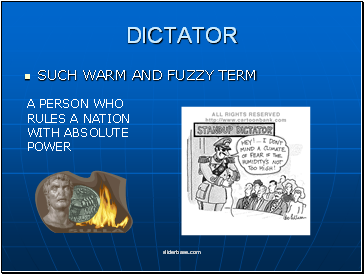 DICTATOR
SUCH WARM AND FUZZY TERM
A PERSON WHO RULES A NATION WITH ABSOLUTE POWER
Slide 23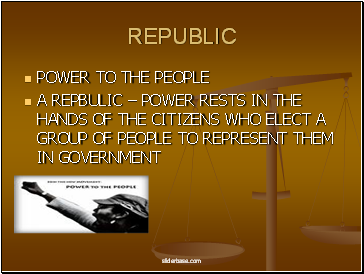 REPUBLIC
POWER TO THE PEOPLE
A REPBULIC – POWER RESTS IN THE HANDS OF THE CITIZENS WHO ELECT A GROUP OF PEOPLE TO REPRESENT THEM IN GOVERNMENT
Slide 24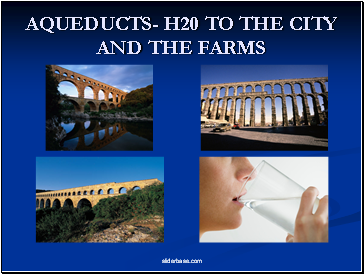 AQUEDUCTS- H20 TO THE CITY AND THE FARMS
Slide 25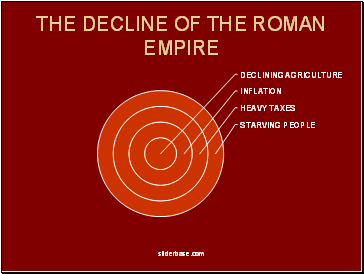 THE DECLINE OF THE ROMAN EMPIRE
Slide 26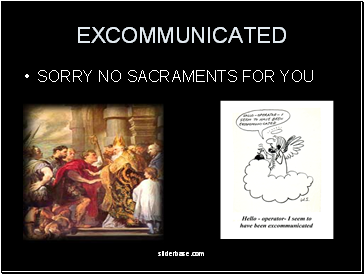 EXCOMMUNICATED
SORRY NO SACRAMENTS FOR YOU
Slide 27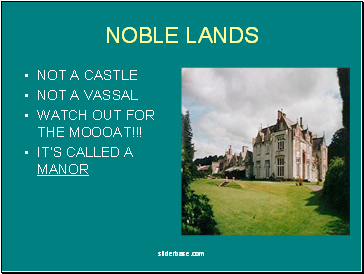 NOBLE LANDS
NOT A CASTLE
NOT A VASSAL
WATCH OUT FOR THE MOOOAT!!!
IT'S CALLED A MANOR
Slide 28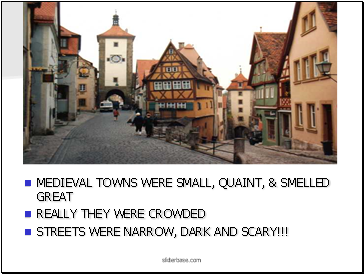 MEDIEVAL TOWNS WERE SMALL, QUAINT, & SMELLED GREAT
REALLY THEY WERE CROWDED
STREETS WERE NARROW, DARK AND SCARY!!!
Slide 29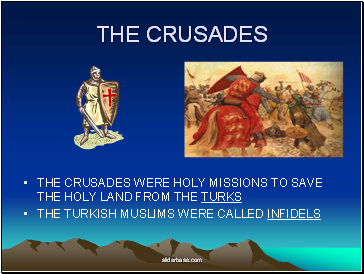 THE CRUSADES
THE CRUSADES WERE HOLY MISSIONS TO SAVE THE HOLY LAND FROM THE TURKS