Founding Fathers of the US Constitution
Page
3
Franklin was "a jack-of-all-trades and a master of many"
He was the only person who signed four of the most important documents in U.S. history
www.sliderbase.com
Slide 19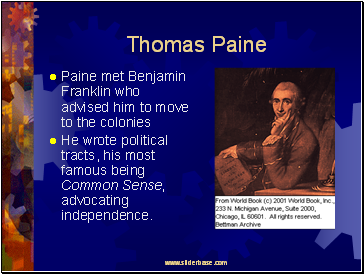 Thomas Paine
Paine met Benjamin Franklin who advised him to move to the colonies
He wrote political tracts, his most famous being Common Sense, advocating independence.
www.sliderbase.com
Slide 20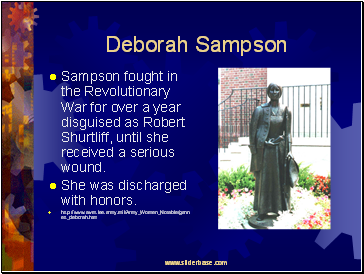 Deborah Sampson
Sampson fought in the Revolutionary War for over a year disguised as Robert Shurtliff, until she received a serious wound.
She was discharged with honors.
http://www.awm.lee.army.mil/Army_Women_Notable/gannett_deborah.htm
www.sliderbase.com
Slide 21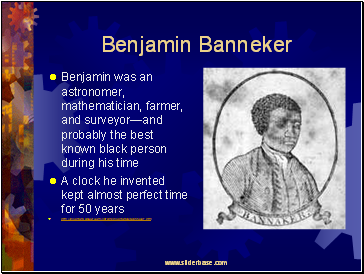 Benjamin Banneker
Benjamin was an astronomer, mathematician, farmer, and surveyor—and probably the best known black person during his time
A clock he invented kept almost perfect time for 50 years
http://inventors.about.com/library/inventors/blbanneker.htm
www.sliderbase.com
Slide 22
Betsy Ross
Legend has it that she designed the first U.S. flag
The story first came about 94 years after it was to have first happened
Betsy Ross did sew flags and had an upholstery business.
http://www.usflag.org/about.betsy.ross.html
www.sliderbase.com
Slide 23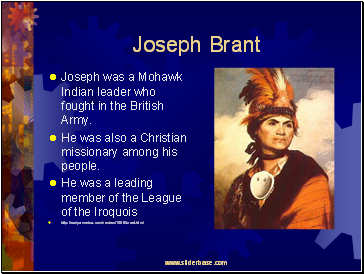 Joseph Brant
Joseph was a Mohawk Indian leader who fought in the British Army.
He was also a Christian missionary among his people.
He was a leading member of the League of the Iroquois
http://earlyamerica.com/review/1998/brant.html
www.sliderbase.com