Compare Visual System of Fish to Human
Page
3
Slide 17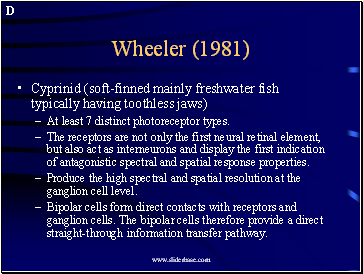 Wheeler (1981)
Cyprinid (soft-finned mainly freshwater fish typically having toothless jaws)
At least 7 distinct photoreceptor types.
The receptors are not only the first neural retinal element, but also act as interneurons and display the first indication of antagonistic spectral and spatial response properties.
Produce the high spectral and spatial resolution at the ganglion cell level.
Bipolar cells form direct contacts with receptors and ganglion cells. The bipolar cells therefore provide a direct straight-through information transfer pathway.
D
Slide 18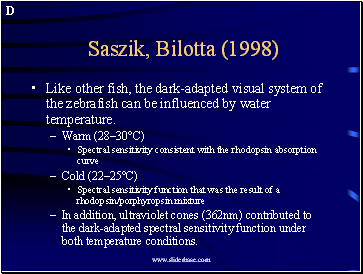 Saszik, Bilotta (1998)
Like other fish, the dark-adapted visual system of the zebrafish can be influenced by water temperature.
Warm (28–30°C)
Spectral sensitivity consistent with the rhodopsin absorption curve
Cold (22–25°C)
Spectral sensitivity function that was the result of a rhodopsin/porphyropsin mixture
In addition, ultraviolet cones (362nm) contributed to the dark-adapted spectral sensitivity function under both temperature conditions.
D
Slide 19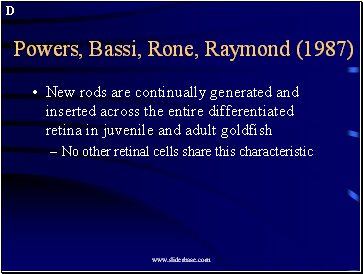 Powers, Bassi, Rone, Raymond (1987)
New rods are continually generated and inserted across the entire differentiated retina in juvenile and adult goldfish
No other retinal cells share this characteristic
D
Slide 20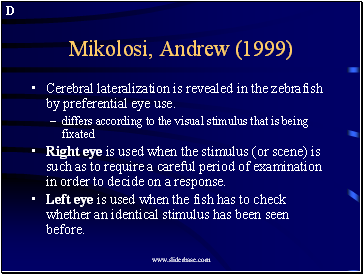 Mikolosi, Andrew (1999)
Cerebral lateralization is revealed in the zebrafish by preferential eye use.
differs according to the visual stimulus that is being fixated
Right eye is used when the stimulus (or scene) is such as to require a careful period of examination in order to decide on a response.
Left eye is used when the fish has to check whether an identical stimulus has been seen before.
D
Slide 21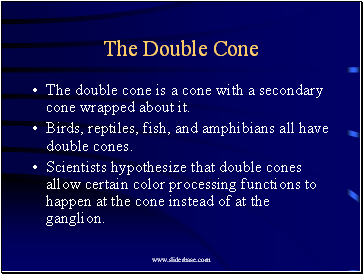 The Double Cone
The double cone is a cone with a secondary cone wrapped about it.
Birds, reptiles, fish, and amphibians all have double cones.
Scientists hypothesize that double cones allow certain color processing functions to happen at the cone instead of at the ganglion.
Slide 22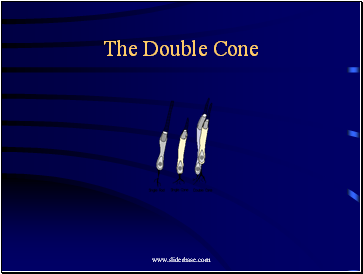 The Double Cone
Slide 23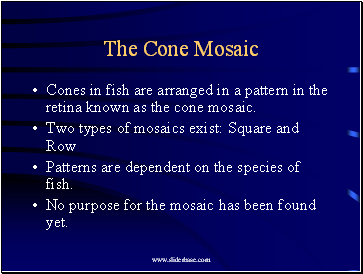 The Cone Mosaic
Cones in fish are arranged in a pattern in the retina known as the cone mosaic.
Two types of mosaics exist: Square and Row
Patterns are dependent on the species of fish.
No purpose for the mosaic has been found yet.