Feminism- Cure or Curse
Page
3
With your husband you chose exile Suffered privation, abduction And then the rejection – The chastity test on the scorching flames
The victim twice victimised. Could those flames turn to flowers
Without Searing the soul?
They say you were the ideal wife You questioned him not And let him have his way The poets who wrote your story Said: a woman is not worthy of hearing
The Ramayana; like a beast she is fit only For being beaten
Could such poetry ever bring you glory? Yet, they spoke their verses without challenge
And With such falsehoods got away.
Sita Speak
You who could lift the magic bow and play
With one hand Who could command the earth with a word
How did they silence you?
(Bina Agarwal 1985)
Slide 19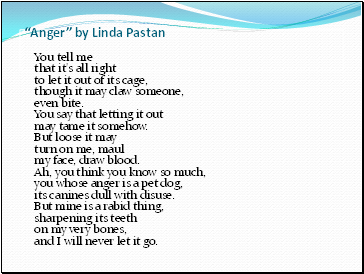 "Anger" by Linda Pastan
You tell me that it's all right to let it out of its cage, though it may claw someone, even bite. You say that letting it out may tame it somehow. But loose it may turn on me, maul my face, draw blood. Ah, you think you know so much, you whose anger is a pet dog, its canines dull with disuse. But mine is a rabid thing, sharpening its teeth on my very bones, and I will never let it go.
Slide 20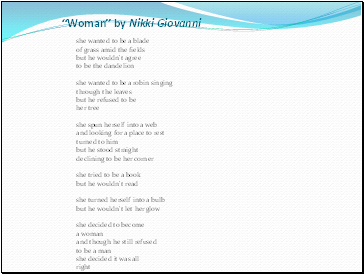 " "Woman" by Nikki Giovanni
she wanted to be a blade of grass amid the fields but he wouldn't agree to be the dandelion she wanted to be a robin singing through the leaves but he refused to be her tree she spun herself into a web and looking for a place to rest turned to him but he stood straight declining to be her corner she tried to be a book but he wouldn't read she turned herself into a bulb but he wouldn't let her glow she decided to become a woman and though he still refused to be a man she decided it was all right
Slide 21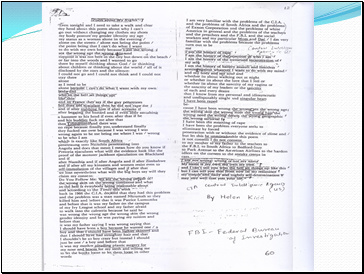 Slide 22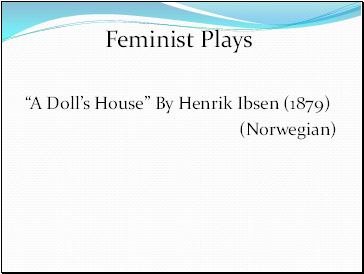 Feminist Plays
"A Doll's House" By Henrik Ibsen (1879)
(Norwegian)
Slide 23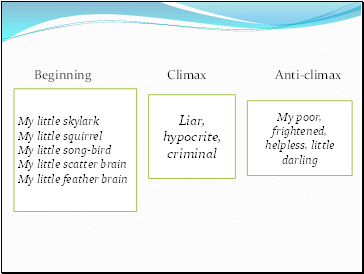 Beginning Climax Anti-climax
Liar, hypocrite, criminal
My poor, frightened, helpless, little darling
My little skylark
My little squirrel
My little song-bird
My little scatter brain
My little feather brain
Slide 24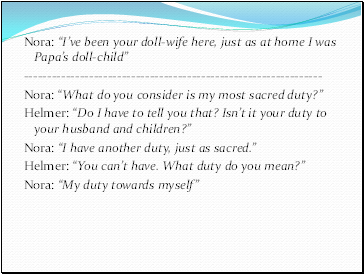 Nora: "I've been your doll-wife here, just as at home I was Papa's doll-child"
----------------------------------------------------------------
Nora: "What do you consider is my most sacred duty?"
Helmer: "Do I have to tell you that? Isn't it your duty to your husband and children?"
Nora: "I have another duty, just as sacred."