Poetic Devices
Page
3
Slide 16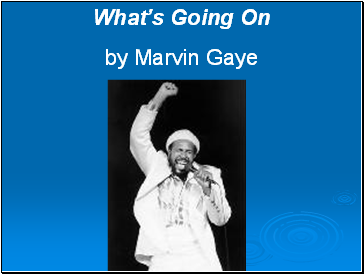 What's Going On
by Marvin Gaye
Slide 17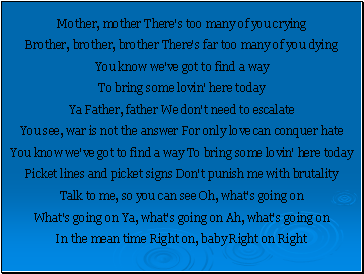 Mother, mother There's too many of you crying
Brother, brother, brother There's far too many of you dying
You know we've got to find a way
To bring some lovin' here today
Ya Father, father We don't need to escalate
You see, war is not the answer For only love can conquer hate
You know we've got to find a way To bring some lovin' here today
Picket lines and picket signs Don't punish me with brutality
Talk to me, so you can see Oh, what's going on
What's going on Ya, what's going on Ah, what's going on
In the mean time Right on, baby Right on Right
Slide 18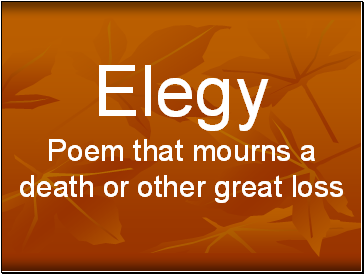 Elegy
Poem that mourns a death or other great loss
Slide 19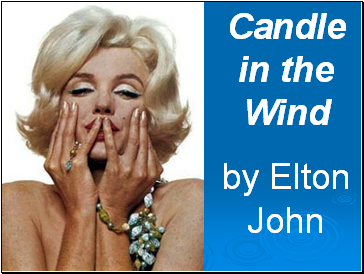 Candle in the Wind
by Elton John
Slide 20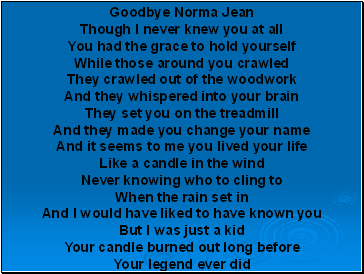 Goodbye Norma Jean
Though I never knew you at all
You had the grace to hold yourself
While those around you crawled
They crawled out of the woodwork
And they whispered into your brain
They set you on the treadmill
And they made you change your name
And it seems to me you lived your life
Like a candle in the wind
Never knowing who to cling to
When the rain set in
And I would have liked to have known you
But I was just a kid
Your candle burned out long before
Your legend ever did
Slide 21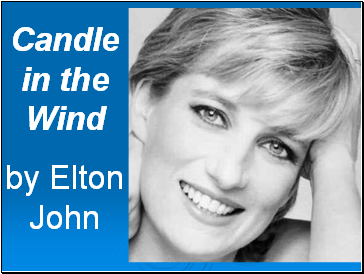 Candle in the Wind
by Elton John
Slide 22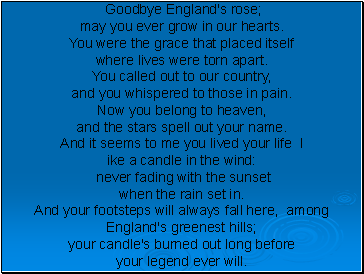 Goodbye England's rose;
may you ever grow in our hearts.
You were the grace that placed itself
where lives were torn apart.
You called out to our country,
and you whispered to those in pain.
Now you belong to heaven,
and the stars spell out your name.
And it seems to me you lived your life l
ike a candle in the wind:
never fading with the sunset
when the rain set in.
And your footsteps will always fall here, among England's greenest hills;
your candle's burned out long before
your legend ever will.
Slide 23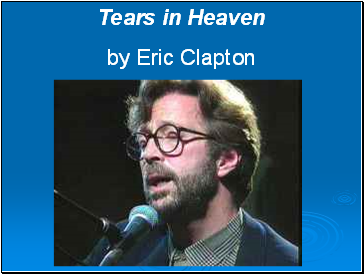 Tears in Heaven
by Eric Clapton
Slide 24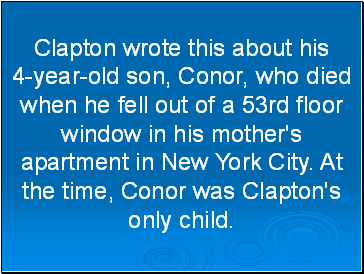 Clapton wrote this about his
4-year-old son, Conor, who died when he fell out of a 53rd floor window in his mother's apartment in New York City. At the time, Conor was Clapton's only child.