Atoms Intro
Page
2
Slide 9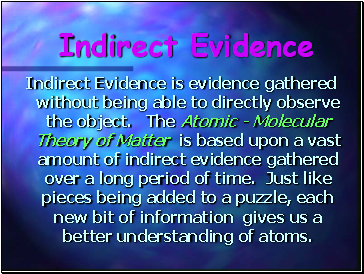 Indirect Evidence
Indirect Evidence is evidence gathered without being able to directly observe the object. The Atomic - Molecular Theory of Matter is based upon a vast amount of indirect evidence gathered over a long period of time. Just like pieces being added to a puzzle, each new bit of information gives us a better understanding of atoms.
Slide 10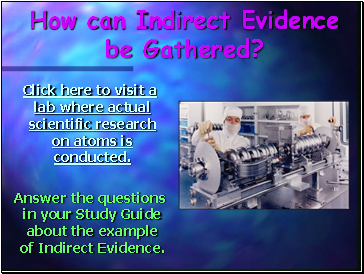 How can Indirect Evidence be Gathered?
Click here to visit a lab where actual scientific research on atoms is conducted.
Answer the questions in your Study Guide about the example of Indirect Evidence.
Slide 11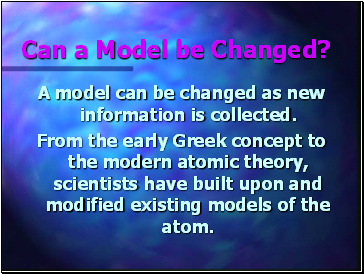 Can a Model be Changed?
A model can be changed as new information is collected.
From the early Greek concept to the modern atomic theory, scientists have built upon and modified existing models of the atom.
Slide 12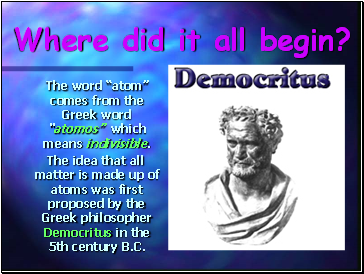 Where did it all begin?
The word "atom" comes from the Greek word "atomos" which means indivisible.
The idea that all matter is made up of atoms was first proposed by the Greek philosopher Democritus in the 5th century B.C.
Slide 13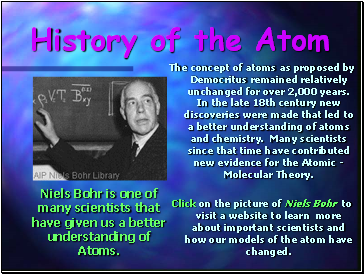 History of the Atom
The concept of atoms as proposed by Democritus remained relatively unchanged for over 2,000 years. In the late 18th century new discoveries were made that led to a better understanding of atoms and chemistry. Many scientists since that time have contributed new evidence for the Atomic - Molecular Theory.
Click on the picture of Niels Bohr to visit a website to learn more about important scientists and how our models of the atom have changed.
Niels Bohr is one of many scientists that have given us a better understanding of Atoms.
Slide 14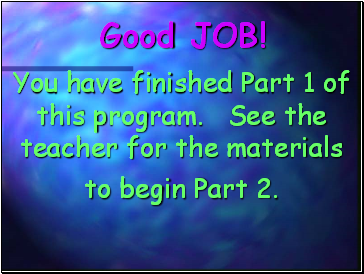 You have finished Part 1 of this program. See the teacher for the materials to begin Part 2.
Good JOB!
Slide 15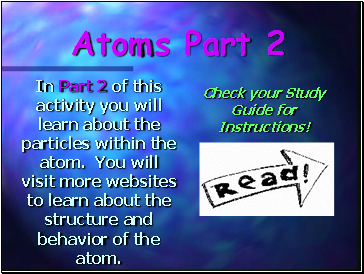 Atoms Part 2
In Part 2 of this activity you will learn about the particles within the atom. You will visit more websites to learn about the structure and behavior of the atom.
Check your Study Guide for Instructions!
Slide 16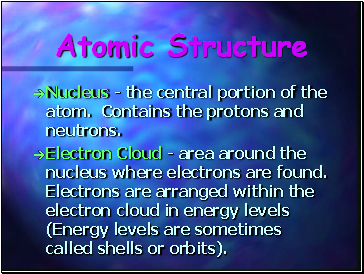 Atomic Structure
Nucleus - the central portion of the atom. Contains the protons and neutrons.
Electron Cloud - area around the nucleus where electrons are found. Electrons are arranged within the electron cloud in energy levels (Energy levels are sometimes called shells or orbits).