JFK Assassination
Page
4
Using the bullet wounds, Stone used this diagram to convince people that one bullet could not hit JFK and the governor the way reported.
Notice both
heads are
level with
each other.
Slide 41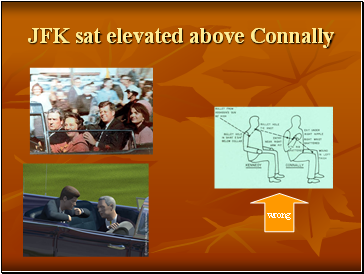 JFK sat elevated above Connally
wrong
Slide 42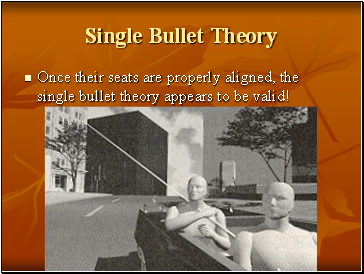 Single Bullet Theory
Once their seats are properly aligned, the single bullet theory appears to be valid!
Slide 43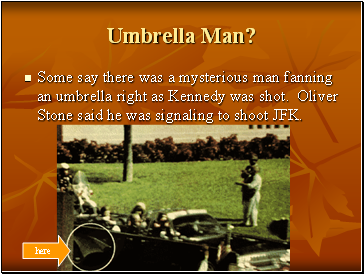 Umbrella Man?
Some say there was a mysterious man fanning an umbrella right as Kennedy was shot. Oliver Stone said he was signaling to shoot JFK.
here
Slide 44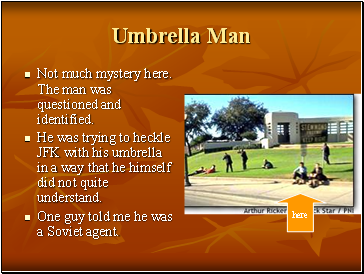 Umbrella Man
Not much mystery here. The man was questioned and identified.
He was trying to heckle JFK with his umbrella in a way that he himself did not quite understand.
One guy told me he was a Soviet agent.
here
Slide 45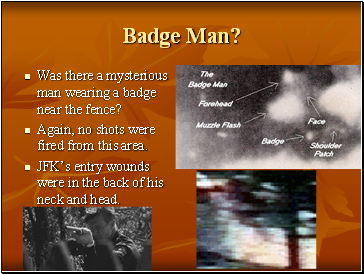 Badge Man?
Was there a mysterious man wearing a badge near the fence?
Again, no shots were fired from this area.
JFK's entry wounds were in the back of his neck and head.
Slide 46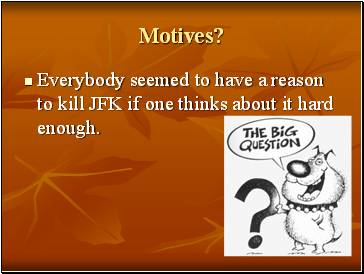 Motives?
Everybody seemed to have a reason to kill JFK if one thinks about it hard enough.
Slide 47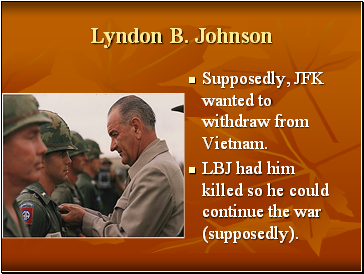 Lyndon B. Johnson
Supposedly, JFK wanted to withdraw from Vietnam.
LBJ had him killed so he could continue the war (supposedly).
Slide 48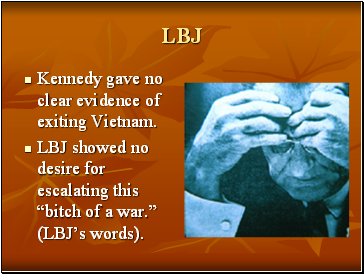 LBJ
Kennedy gave no clear evidence of exiting Vietnam.
LBJ showed no desire for escalating this "bitch of a war." (LBJ's words).
Slide 49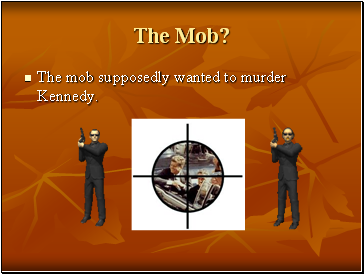 The Mob?
The mob supposedly wanted to murder Kennedy.
Slide 50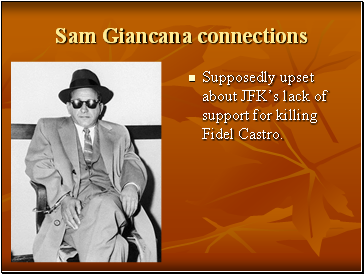 Sam Giancana connections
Supposedly upset about JFK's lack of support for killing Fidel Castro.
Slide 51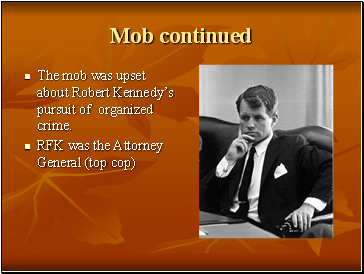 Mob continued
The mob was upset about Robert Kennedy's pursuit of organized crime.
RFK was the Attorney General (top cop)
Slide 52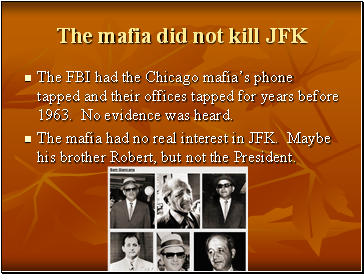 The mafia did not kill JFK
The FBI had the Chicago mafia's phone tapped and their offices tapped for years before 1963. No evidence was heard.