Viruses
Page
2
Slide 15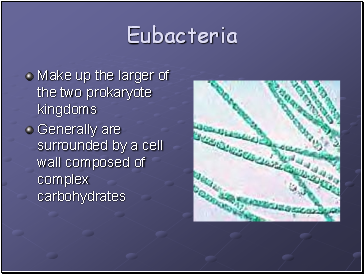 Eubacteria
Make up the larger of the two prokaryote kingdoms
Generally are surrounded by a cell wall composed of complex carbohydrates
Slide 16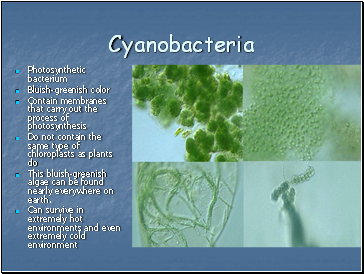 Cyanobacteria
Photosynthetic bacterium
Bluish-greenish color
Contain membranes that carry out the process of photosynthesis
Do not contain the same type of chloroplasts as plants do
This bluish-greenish algae can be found nearly everywhere on earth.
Can survive in extremely hot environments and even extremely cold environment
Slide 17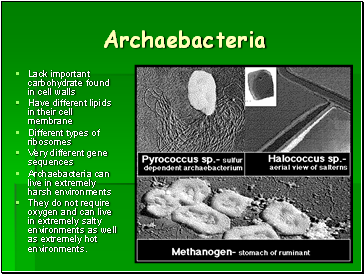 Archaebacteria
Lack important carbohydrate found in cell walls
Have different lipids in their cell membrane
Different types of ribosomes
Very different gene sequences
Archaebacteria can live in extremely harsh environments
They do not require oxygen and can live in extremely salty environments as well as extremely hot environments.
Slide 18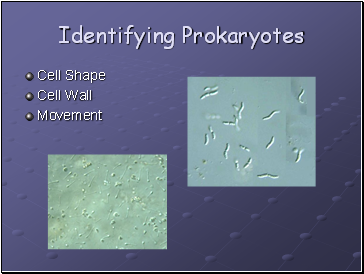 Identifying Prokaryotes
Cell Shape
Cell Wall
Movement
Slide 19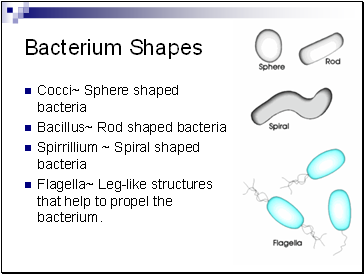 Bacterium Shapes
Cocci~ Sphere shaped bacteria
Bacillus~ Rod shaped bacteria
Spirrillium ~ Spiral shaped bacteria
Flagella~ Leg-like structures that help to propel the bacterium.
Slide 20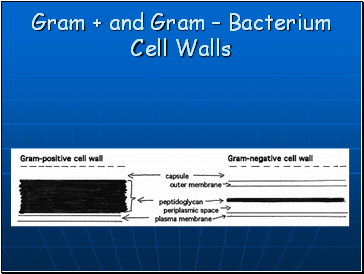 Gram + and Gram – Bacterium Cell Walls
Slide 21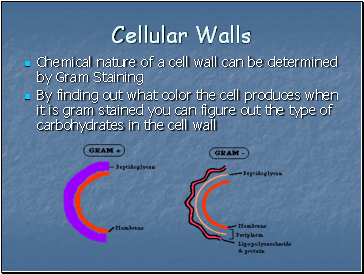 Cellular Walls
Chemical nature of a cell wall can be determined by Gram Staining
By finding out what color the cell produces when it is gram stained you can figure out the type of carbohydrates in the cell wall
Slide 22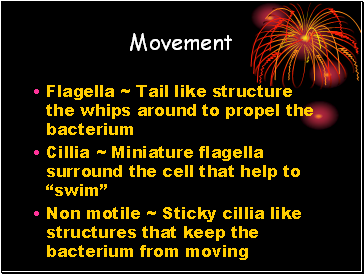 Movement
Flagella ~ Tail like structure the whips around to propel the bacterium
Cillia ~ Miniature flagella surround the cell that help to "swim"
Non motile ~ Sticky cillia like structures that keep the bacterium from moving
Slide 23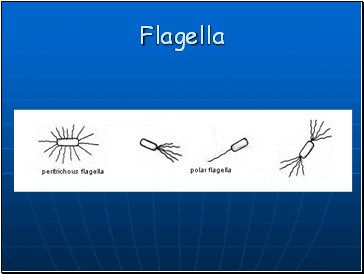 Flagella
Slide 24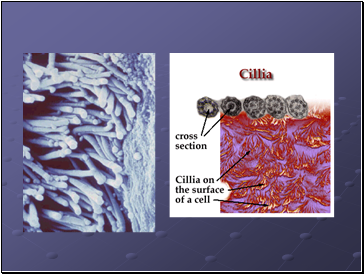 Slide 25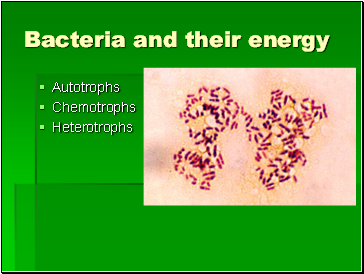 Bacteria and their energy
Autotrophs
Chemotrophs
Heterotrophs
Slide 26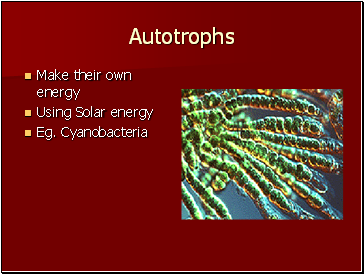 Autotrophs