Replication of DNA and Chromosomes
Page
2
DNA polymerase a has associated primase activity and is thought to be the polymerase that synthesizes the lagging strand.
Slide 13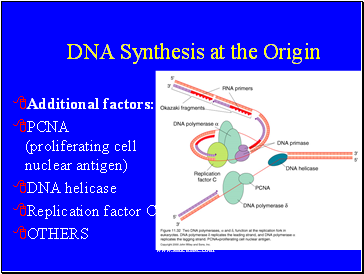 DNA Synthesis at the Origin
Additional factors:
PCNA (proliferating cell nuclear antigen)
DNA helicase
Replication factor C
OTHERS
Slide 14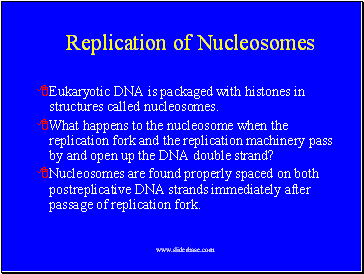 Replication of Nucleosomes
Eukaryotic DNA is packaged with histones in structures called nucleosomes.
What happens to the nucleosome when the replication fork and the replication machinery pass by and open up the DNA double strand?
Nucleosomes are found properly spaced on both postreplicative DNA strands immediately after passage of replication fork.
Slide 15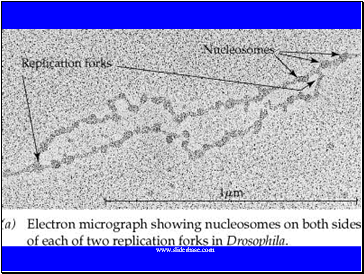 Slide 16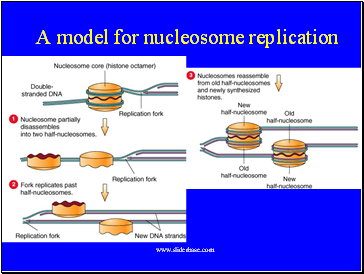 A model for nucleosome replication
Slide 17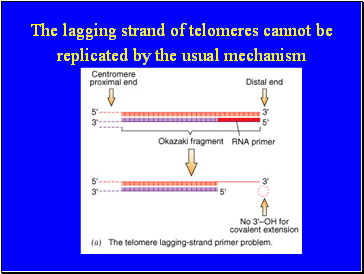 The lagging strand of telomeres cannot be replicated by the usual mechanism
Slide 18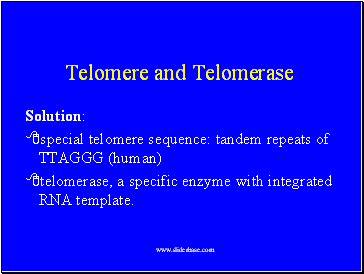 Telomere and Telomerase
Solution:
special telomere sequence: tandem repeats of TTAGGG (human)
telomerase, a specific enzyme with integrated RNA template.
Slide 19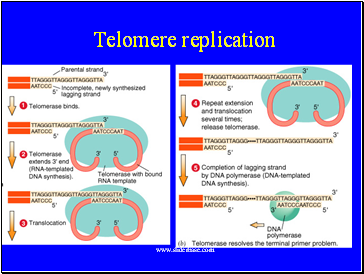 Telomere replication