Bioenergetics
Page
1
Slide 1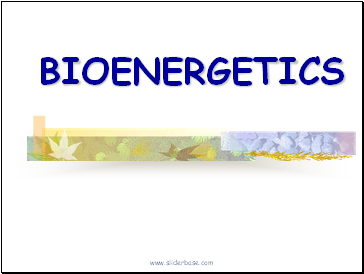 BIOENERGETICS
Slide 2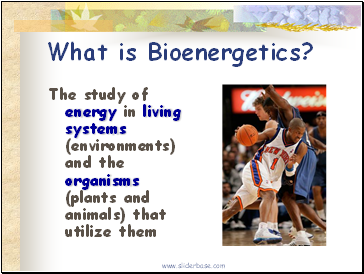 What is Bioenergetics?
The study of energy in living systems (environments) and the organisms (plants and animals) that utilize them
Slide 3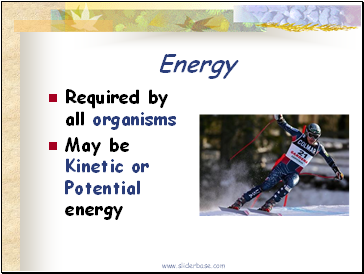 Energy
Required by all organisms
May be Kinetic or Potential energy
Slide 4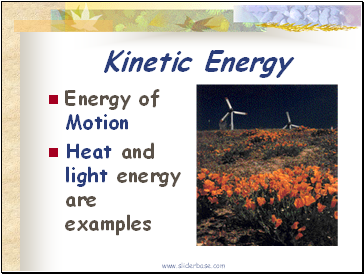 Kinetic Energy
Energy of Motion
Heat and light energy are examples
Slide 5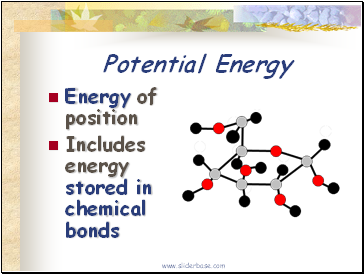 Potential Energy
Energy of position
Includes energy stored in chemical bonds
Slide 6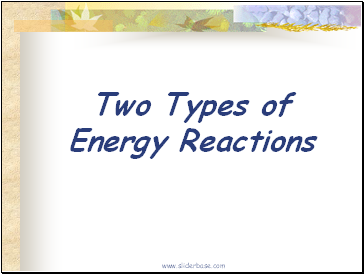 Two Types of Energy Reactions
Slide 7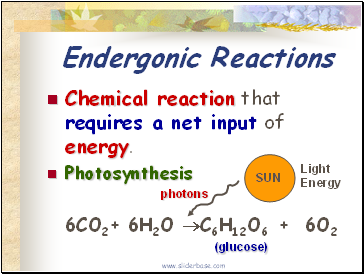 Endergonic Reactions
Chemical reaction that requires a net input of energy.
Photosynthesis
6CO2 + 6H2O  C6H12O6 + 6O2
Slide 8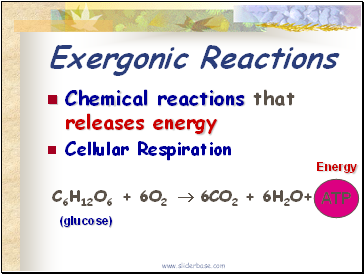 Exergonic Reactions
Chemical reactions that releases energy
Cellular Respiration
C6H12O6 + 6O2  6CO2 + 6H2O+
Slide 9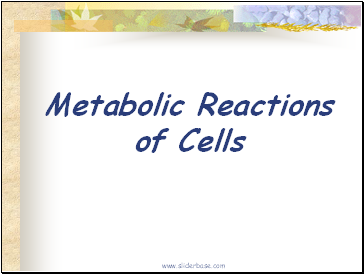 Metabolic Reactions of Cells
Slide 10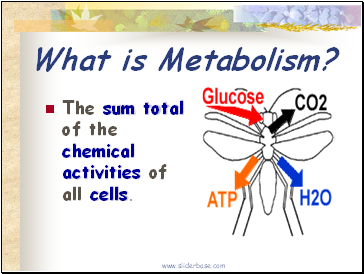 What is Metabolism?
The sum total of the chemical activities of all cells.
Slide 11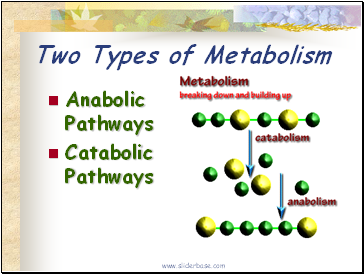 Two Types of Metabolism
Anabolic Pathways
Catabolic Pathways
Slide 12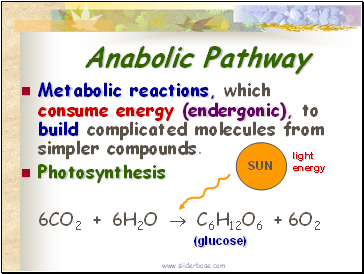 Anabolic Pathway
Metabolic reactions, which consume energy (endergonic), to build complicated molecules from simpler compounds.
Photosynthesis
6CO2 + 6H2O  C6H12O6 + 6O2
Slide 13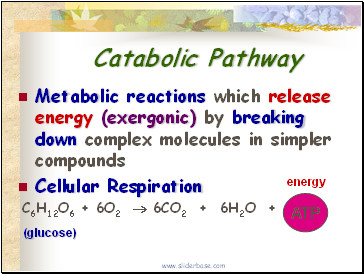 Catabolic Pathway
Metabolic reactions which release energy (exergonic) by breaking down complex molecules in simpler compounds
Cellular Respiration
C6H12O6 + 6O2  6CO2 + 6H2O +
Slide 14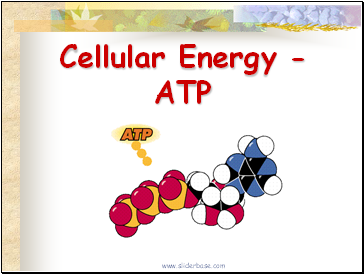 Cellular Energy - ATP
Slide 15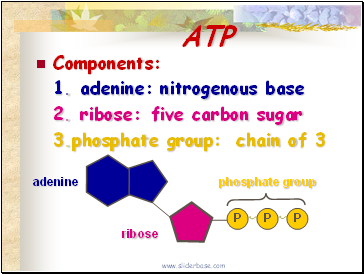 ATP
Components:
1. adenine: nitrogenous base
2. ribose: five carbon sugar