Plant Diversity
Page
1
Slide 1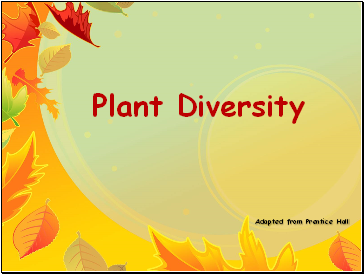 Plant Diversity
Adapted from Prentice Hall
Slide 2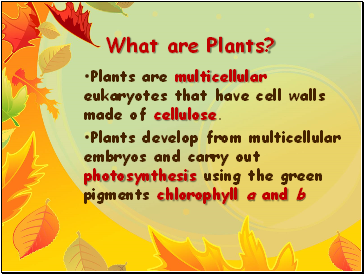 What are Plants?
Plants are multicellular eukaryotes that have cell walls made of cellulose.
Plants develop from multicellular embryos and carry out photosynthesis using the green pigments chlorophyll a and b
Slide 3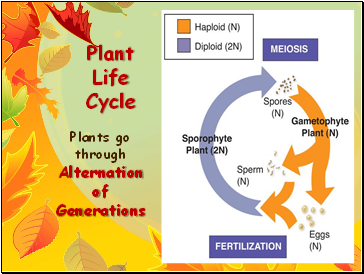 Plant Life Cycle
Plants go through Alternation of Generations
Slide 4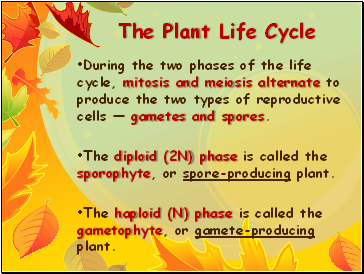 The Plant Life Cycle
During the two phases of the life cycle, mitosis and meiosis alternate to produce the two types of reproductive cells — gametes and spores.
The diploid (2N) phase is called the sporophyte, or spore-producing plant.
The haploid (N) phase is called the gametophyte, or gamete-producing plant.
Slide 5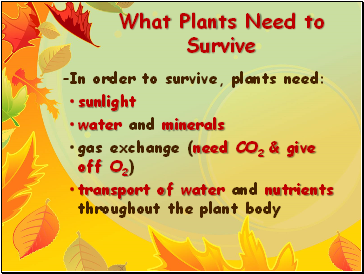 What Plants Need to Survive
In order to survive, plants need:
sunlight
water and minerals
gas exchange (need CO2 & give off O2)
transport of water and nutrients throughout the plant body
Slide 6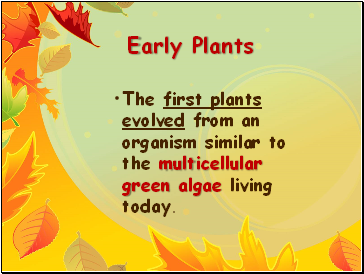 Early Plants
The first plants evolved from an organism similar to the multicellular green algae living today.
Slide 7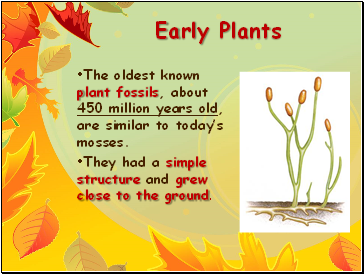 Early Plants
The oldest known plant fossils, about 450 million years old, are similar to today's mosses.
They had a simple structure and grew close to the ground.
Slide 8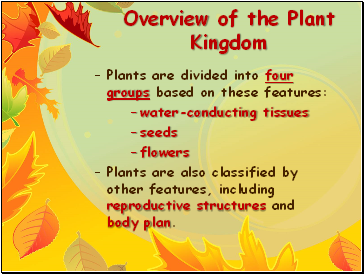 Overview of the Plant Kingdom
Plants are divided into four groups based on these features:
water-conducting tissues
seeds
flowers
Plants are also classified by other features, including reproductive structures and body plan.
Slide 9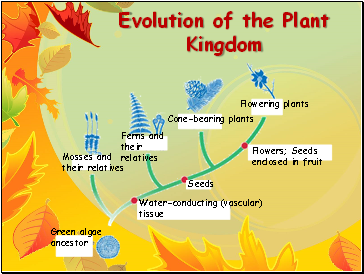 Evolution of the Plant Kingdom
Flowering plants
Cone-bearing plants
Ferns and their relatives
Mosses and their relatives
Flowers; Seeds enclosed in fruit
Water-conducting (vascular) tissue
Seeds
Green algae ancestor
Slide 10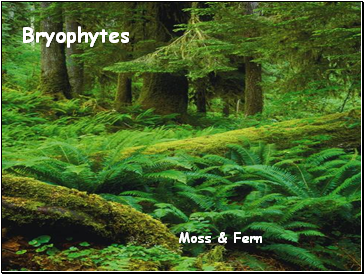 Bryophytes
Moss & Fern
Slide 11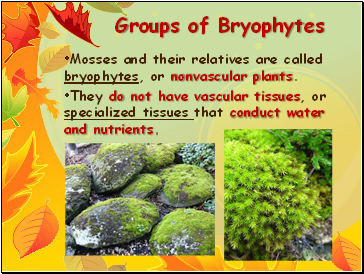 Groups of Bryophytes
Mosses and their relatives are called bryophytes, or nonvascular plants.
They do not have vascular tissues, or specialized tissues that conduct water and nutrients.