Photosynthesis
Page
2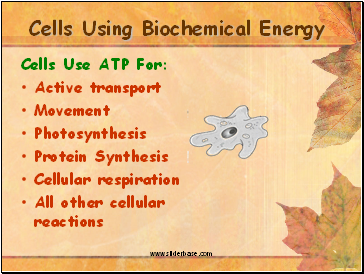 Cells Using Biochemical Energy
Cells Use ATP For:
Active transport
Movement
Photosynthesis
Protein Synthesis
Cellular respiration
All other cellular reactions
Slide 14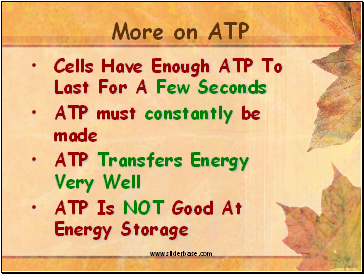 More on ATP
Cells Have Enough ATP To Last For A Few Seconds
ATP must constantly be made
ATP Transfers Energy Very Well
ATP Is NOT Good At Energy Storage
Slide 15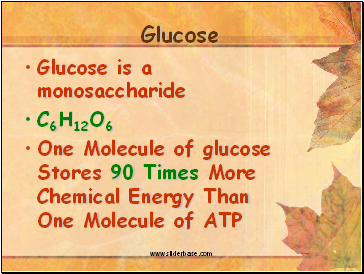 Glucose
Glucose is a monosaccharide
C6H12O6
One Molecule of glucose Stores 90 Times More Chemical Energy Than One Molecule of ATP
Slide 16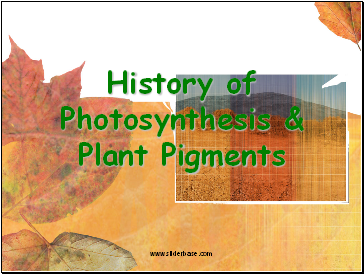 History of Photosynthesis & Plant Pigments
Slide 17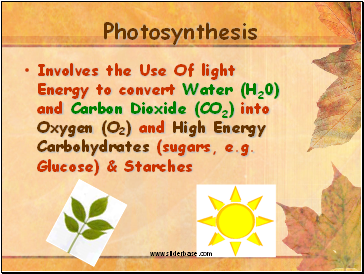 Photosynthesis
Involves the Use Of light Energy to convert Water (H20) and Carbon Dioxide (CO2) into Oxygen (O2) and High Energy Carbohydrates (sugars, e.g. Glucose) & Starches
Slide 18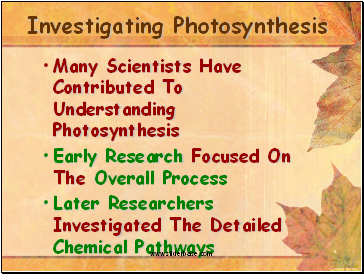 Investigating Photosynthesis
Many Scientists Have Contributed To Understanding Photosynthesis
Early Research Focused On The Overall Process
Later Researchers Investigated The Detailed Chemical Pathways
Slide 19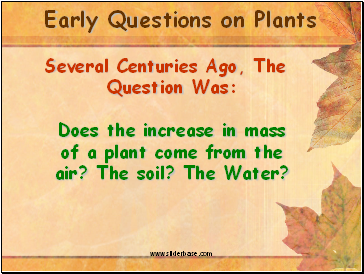 Early Questions on Plants
Several Centuries Ago, The Question Was: Does the increase in mass of a plant come from the air? The soil? The Water?
Slide 20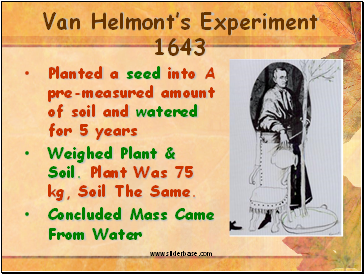 Van Helmont's Experiment 1643
Planted a seed into A pre-measured amount of soil and watered for 5 years
Weighed Plant & Soil. Plant Was 75 kg, Soil The Same.
Concluded Mass Came From Water
Slide 21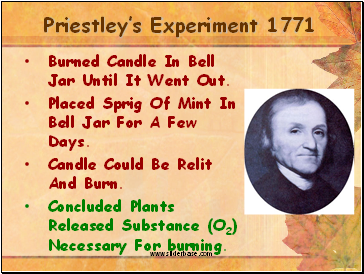 Priestley's Experiment 1771
Burned Candle In Bell Jar Until It Went Out.
Placed Sprig Of Mint In Bell Jar For A Few Days.
Candle Could Be Relit And Burn.
Concluded Plants Released Substance (O2) Necessary For burning.
Slide 22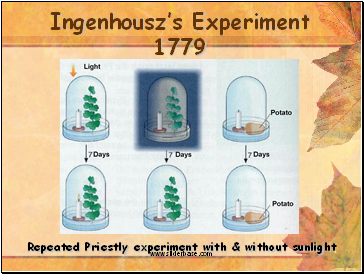 Ingenhousz's Experiment 1779
Repeated Priestly experiment with & without sunlight
Slide 23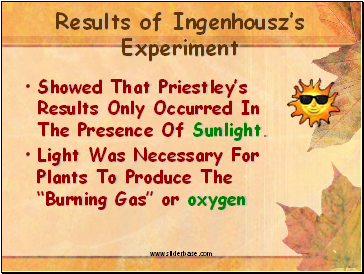 Results of Ingenhousz's Experiment
Showed That Priestley's Results Only Occurred In The Presence Of Sunlight.
Light Was Necessary For Plants To Produce The "Burning Gas" or oxygen