Acid and Base Balance and Imbalance
Page
2
Major intracellular buffer
H+ + HPO42- ↔ H2PO4-
OH- + H2PO4- ↔ H2O + H2PO42-
www.sliderbase.com
Slide 13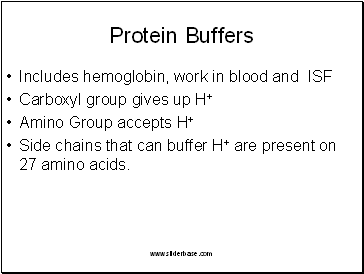 Protein Buffers
Includes hemoglobin, work in blood and ISF
Carboxyl group gives up H+
Amino Group accepts H+
Side chains that can buffer H+ are present on 27 amino acids.
www.sliderbase.com
Slide 14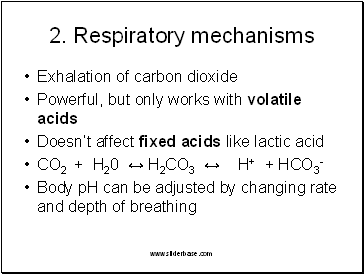 2. Respiratory mechanisms
Exhalation of carbon dioxide
Powerful, but only works with volatile acids
Doesn't affect fixed acids like lactic acid
CO2 + H20 ↔ H2CO3 ↔ H+ + HCO3-
Body pH can be adjusted by changing rate and depth of breathing
www.sliderbase.com
Slide 15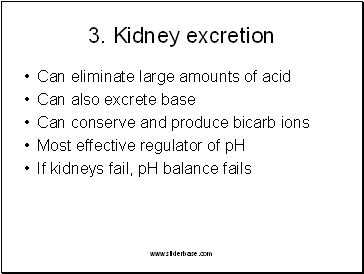 3. Kidney excretion
Can eliminate large amounts of acid
Can also excrete base
Can conserve and produce bicarb ions
Most effective regulator of pH
If kidneys fail, pH balance fails
www.sliderbase.com
Slide 16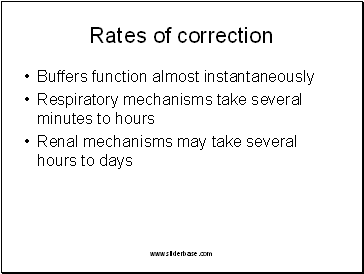 Rates of correction
Buffers function almost instantaneously
Respiratory mechanisms take several minutes to hours
Renal mechanisms may take several hours to days
www.sliderbase.com
Slide 17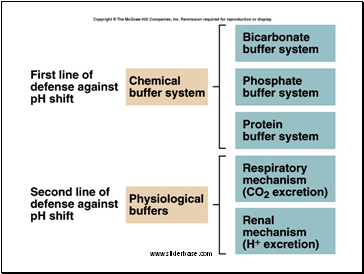 www.sliderbase.com
Slide 18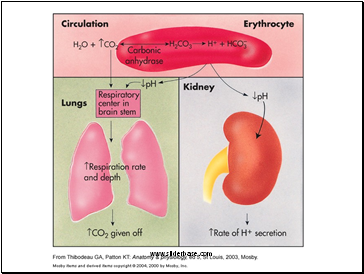 www.sliderbase.com
Slide 19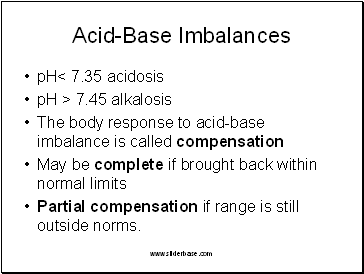 Acid-Base Imbalances
pH< 7.35 acidosis
pH > 7.45 alkalosis
The body response to acid-base imbalance is called compensation
May be complete if brought back within normal limits
Partial compensation if range is still outside norms.
www.sliderbase.com
Slide 20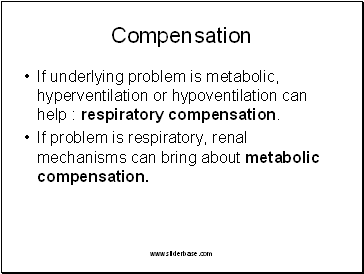 Compensation
If underlying problem is metabolic, hyperventilation or hypoventilation can help : respiratory compensation.
If problem is respiratory, renal mechanisms can bring about metabolic compensation.
www.sliderbase.com
Slide 21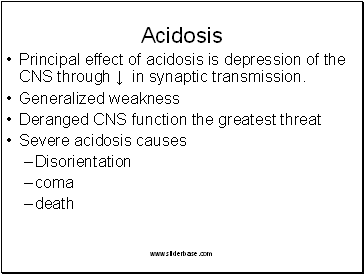 Acidosis
Principal effect of acidosis is depression of the CNS through ↓ in synaptic transmission.
Generalized weakness
Deranged CNS function the greatest threat
Severe acidosis causes
Disorientation
coma
death
www.sliderbase.com
Slide 22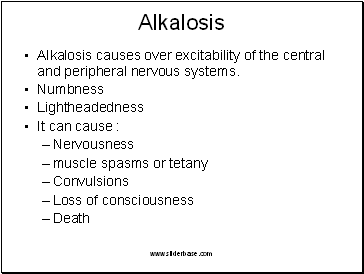 Alkalosis
Alkalosis causes over excitability of the central and peripheral nervous systems.