Polar Covalent Bonds Acids and Bases
Page
2
Dipole moment () - Net molecular polarity, due to difference in summed charges
 - magnitude of charge Q at end of molecular dipole times distance r between charges
 = Q  r, in debyes (D), 1 D = 3.336  1030 coulomb meter
length of an average covalent bond, the dipole moment would be 1.60  1029 Cm, or 4.80 D.
Slide 9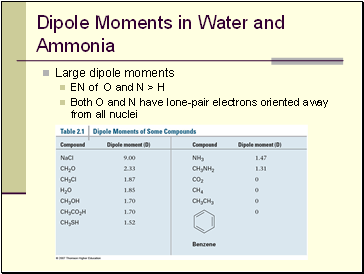 9
Dipole Moments in Water and Ammonia
Large dipole moments
EN of O and N > H
Both O and N have lone-pair electrons oriented away from all nuclei
Slide 10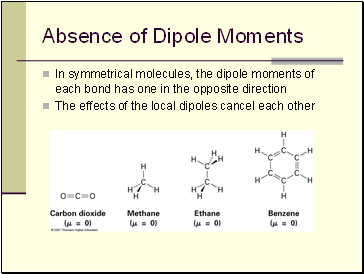 10
Absence of Dipole Moments
In symmetrical molecules, the dipole moments of each bond has one in the opposite direction
The effects of the local dipoles cancel each other
Slide 11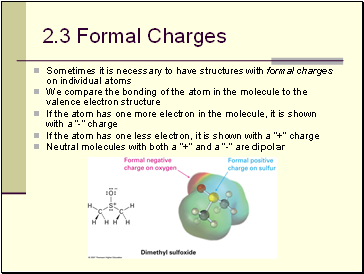 11
Formal Charges
Sometimes it is necessary to have structures with formal charges on individual atoms
We compare the bonding of the atom in the molecule to the valence electron structure
If the atom has one more electron in the molecule, it is shown with a "-" charge
If the atom has one less electron, it is shown with a "+" charge
Neutral molecules with both a "+" and a "-" are dipolar
Slide 12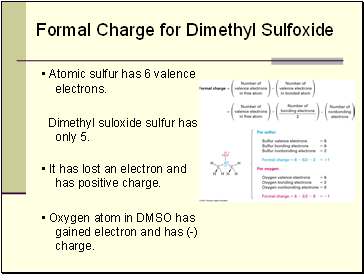 12
• Atomic sulfur has 6 valence electrons.
Dimethyl suloxide sulfur has only 5.
• It has lost an electron and has positive charge.
• Oxygen atom in DMSO has gained electron and has (-) charge.
Formal Charge for Dimethyl Sulfoxide
Slide 13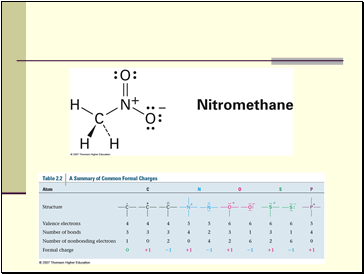 13
Slide 14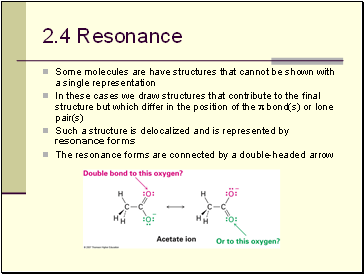 14
Resonance
Some molecules are have structures that cannot be shown with a single representation
In these cases we draw structures that contribute to the final structure but which differ in the position of the  bond(s) or lone pair(s)
Such a structure is delocalized and is represented by resonance forms
The resonance forms are connected by a double-headed arrow
Slide 15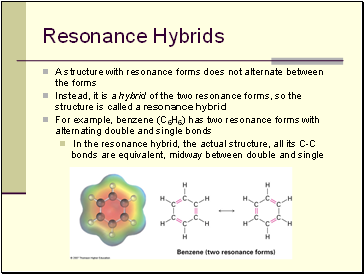 15
Resonance Hybrids
A structure with resonance forms does not alternate between the forms
Instead, it is a hybrid of the two resonance forms, so the structure is called a resonance hybrid
For example, benzene (C6H6) has two resonance forms with alternating double and single bonds
In the resonance hybrid, the actual structure, all its C-C bonds are equivalent, midway between double and single
Slide 16