Astrophysics and Astronomy
Page
1
Slide 1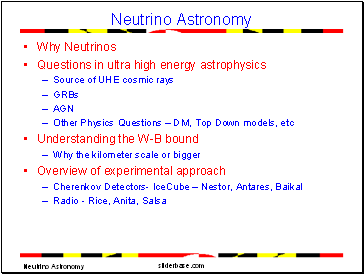 Neutrino Astronomy
Why Neutrinos
Questions in ultra high energy astrophysics
Source of UHE cosmic rays
GRBs
AGN
Other Physics Questions – DM, Top Down models, etc
Understanding the W-B bound
Why the kilometer scale or bigger
Overview of experimental approach
Cherenkov Detectors- IceCube – Nestor, Antares, Baikal
Radio - Rice, Anita, Salsa
Slide 2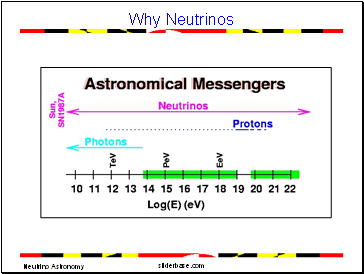 Why Neutrinos
Slide 3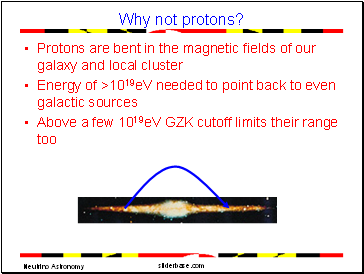 Why not protons?
Protons are bent in the magnetic fields of our galaxy and local cluster
Energy of >1019eV needed to point back to even galactic sources
Above a few 1019eV GZK cutoff limits their range too
Slide 4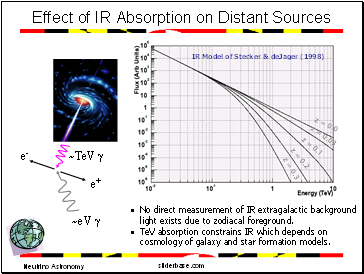 •Effect of IR Absorption on No direct measurement of IR extragalactic background light exists due to zodiacal foreground.
•TeV absorption constrains IR which depends on cosmology of galaxy and star formation models.
Distant Sources
Slide 5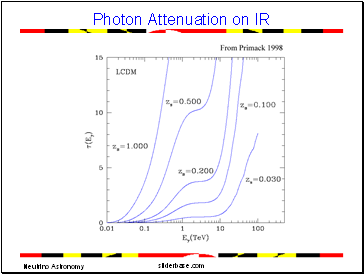 Photon Attenuation on IR
Slide 6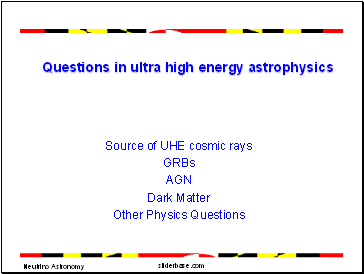 Questions in ultra high energy astrophysics Source of UHE cosmic rays
GRBs
AGN
Dark Matter
Other Physics Questions
Slide 7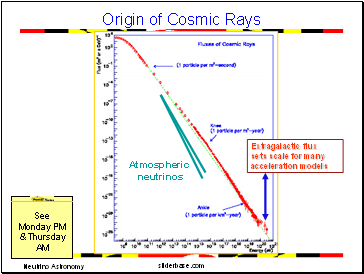 Origin of Cosmic Rays
Slide 8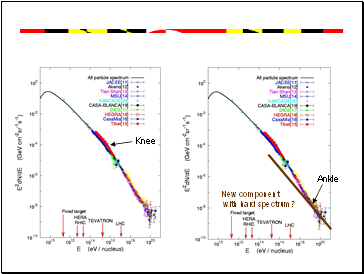 Slide 9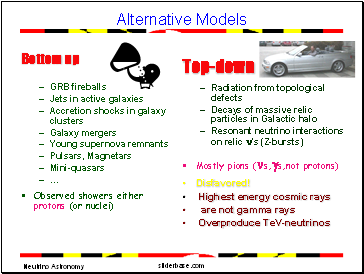 Alternative Models Bottom up
GRB fireballs
Jets in active galaxies
Accretion shocks in galaxy clusters
Galaxy mergers
Young supernova remnants
Pulsars, Magnetars
Mini-quasars
…
Observed showers either protons (or nuclei)
Top-down
Radiation from topological defects
Decays of massive relic particles in Galactic halo
Resonant neutrino interactions on relic n's (Z-bursts)
Mostly pions (ns,gs,not protons)
Disfavored!
Highest energy cosmic rays
are not gamma rays
Overproduce TeV-neutrinos
Slide 10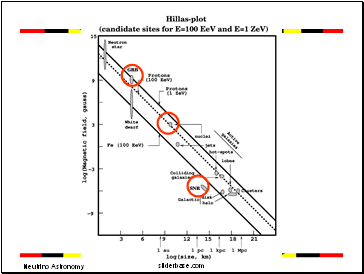 Slide 11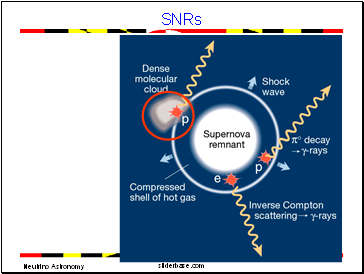 SNRs
Slide 12