Black History Month
Page
3
Slide 16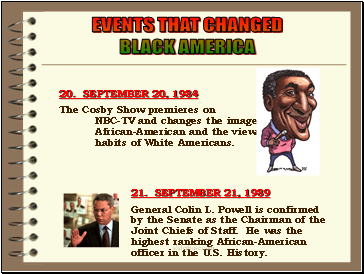 EVENTS THAT CHANGED
BLACK AMERICA
20. SEPTEMBER 20, 1984
The Cosby Show premieres on NBC-TV and changes the image of African-American and the viewing habits of White Americans.
21. SEPTEMBER 21, 1989
General Colin L. Powell is confirmed by the Senate as the Chairman of the Joint Chiefs of Staff. He was the highest ranking African-American officer in the U.S. History.
Slide 17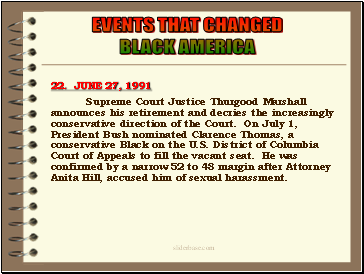 EVENTS THAT CHANGED
BLACK AMERICA
22. JUNE 27, 1991
Supreme Court Justice Thurgood Marshall announces his retirement and decries the increasingly conservative direction of the Court. On July 1, President Bush nominated Clarence Thomas, a conservative Black on the U.S. District of Columbia Court of Appeals to fill the vacant seat. He was confirmed by a narrow 52 to 48 margin after Attorney Anita Hill, accused him of sexual harassment.