Lab Equipment
Page
3
Slide 28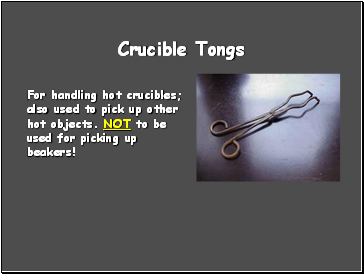 Crucible Tongs
For handling hot crucibles; also used to pick up other hot objects. NOT to be used for picking up beakers!
Slide 29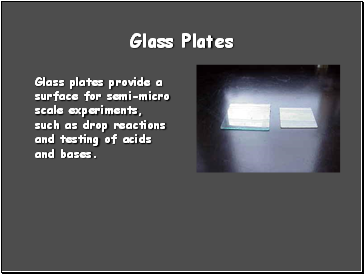 Glass Plates
Glass plates provide a surface for semi-micro scale experiments, such as drop reactions and testing of acids and bases.
Slide 30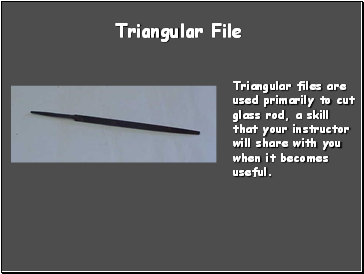 Triangular File
Triangular files are used primarily to cut glass rod, a skill that your instructor will share with you when it becomes useful.
Slide 31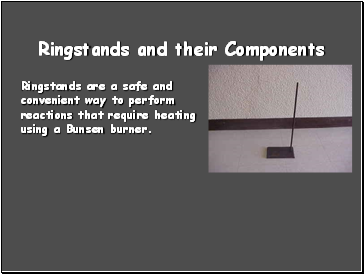 Ringstands and their Components
Ringstands are a safe and convenient way to perform reactions that require heating using a Bunsen burner.
Slide 32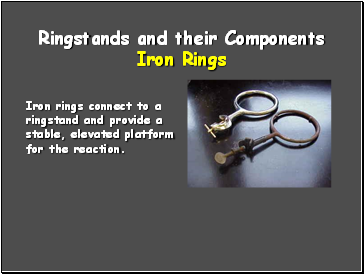 Ringstands and their Components Iron Rings
Iron rings connect to a ringstand and provide a stable, elevated platform for the reaction.
Slide 33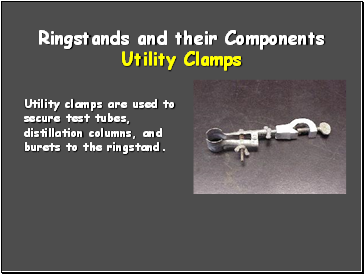 Ringstands and their Components Utility Clamps
Utility clamps are used to secure test tubes, distillation columns, and burets to the ringstand.
Slide 34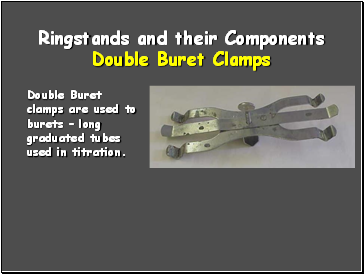 Ringstands and their Components Double Buret Clamps
Double Buret clamps are used to burets – long graduated tubes used in titration.
Slide 35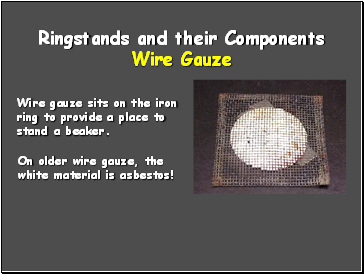 Ringstands and their Components Wire Gauze
Wire gauze sits on the iron ring to provide a place to stand a beaker.
On older wire gauze, the white material is asbestos!
Slide 36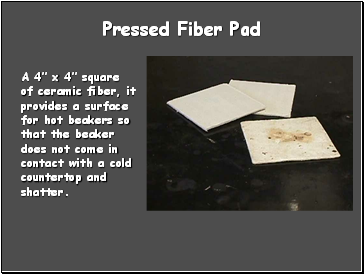 Pressed Fiber Pad
A 4" x 4" square of ceramic fiber, it provides a surface for hot beakers so that the beaker does not come in contact with a cold countertop and shatter.
Slide 37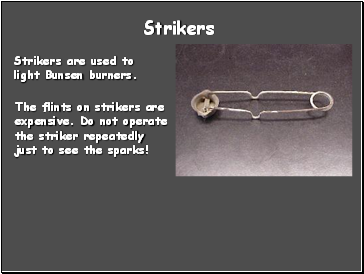 Strikers
Strikers are used to light Bunsen burners.
The flints on strikers are expensive. Do not operate the striker repeatedly just to see the sparks!