Lab Equipment
Page
2
Slide 14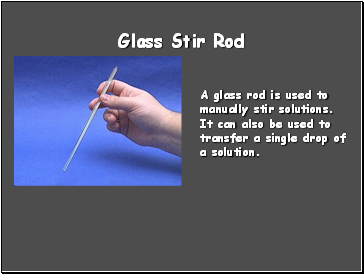 Glass Stir Rod
A glass rod is used to manually stir solutions. It can also be used to transfer a single drop of a solution.
Slide 15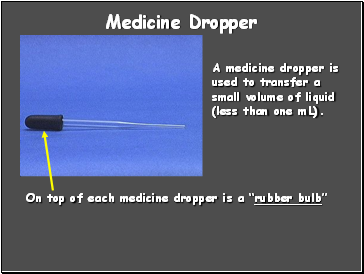 Medicine Dropper
A medicine dropper is used to transfer a small volume of liquid (less than one mL).
On top of each medicine dropper is a "rubber bulb"
Slide 16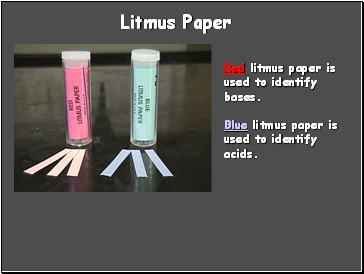 Litmus Paper
Red litmus paper is used to identify bases.
Blue litmus paper is used to identify acids.
Slide 17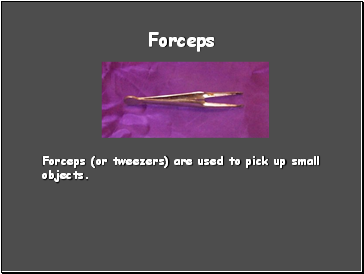 Forceps
Forceps (or tweezers) are used to pick up small objects.
Slide 18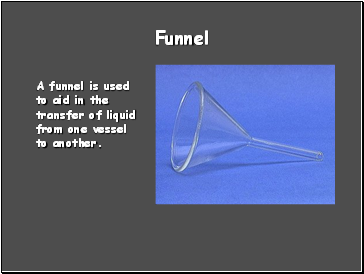 Funnel
A funnel is used to aid in the transfer of liquid from one vessel to another.
Slide 19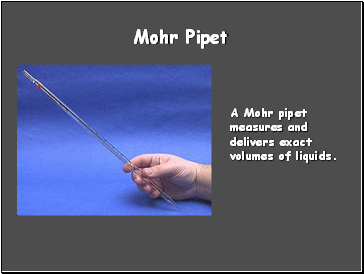 Mohr Pipet
A Mohr pipet measures and delivers exact volumes of liquids.
Slide 20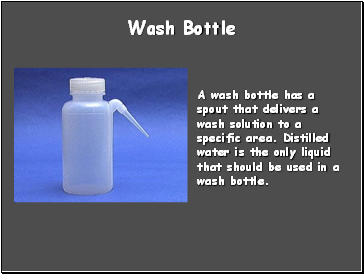 Wash Bottle
A wash bottle has a spout that delivers a wash solution to a specific area. Distilled water is the only liquid that should be used in a wash bottle.
Slide 21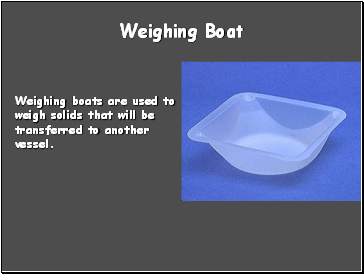 Weighing Boat
Weighing boats are used to weigh solids that will be transferred to another vessel.
Slide 22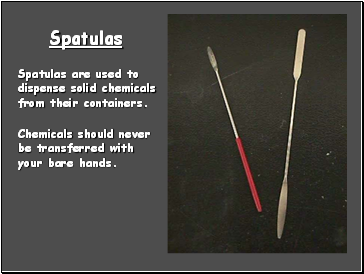 Spatulas
Spatulas are used to dispense solid chemicals from their containers.
Chemicals should never be transferred with your bare hands.
Slide 23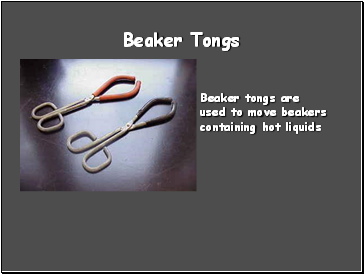 Beaker Tongs
Beaker tongs are used to move beakers containing hot liquids
Slide 24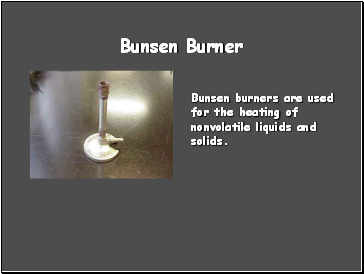 Bunsen Burner
Bunsen burners are used for the heating of nonvolatile liquids and solids.
Slide 25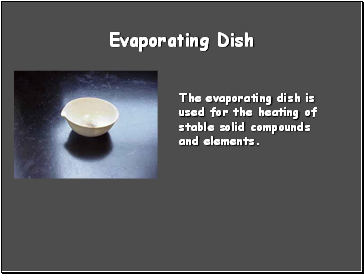 Evaporating Dish
The evaporating dish is used for the heating of stable solid compounds and elements.
Slide 26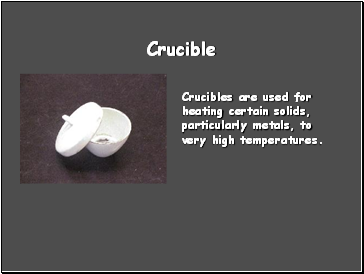 Crucible
Crucibles are used for heating certain solids, particularly metals, to very high temperatures.
Slide 27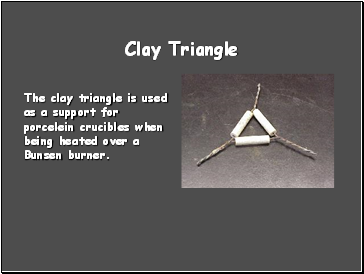 Clay Triangle
The clay triangle is used as a support for porcelein crucibles when being heated over a Bunsen burner.