The Underdog Prevails in Indian Legends
Page
3
Goble, Paul. Star Boy. New York: Bradbury Press, 1983.
A young lady loves the morning star and finds him one morning on her long walk. He takes her to live in the sky world with his mother, the moon, and father, the Sun. The girl has a baby and calls him, Star Boy. She loves her new home and child until one day she disobeys the Sun's command and is able to see into her old world below. She now longs to be with her original family. She and her son return to earth and Star Boy's mother dies from loneliness for morning star. Star Boy is now scarred and ugly and is not accepted in his world. To gain the love of a beautiful chief's daughter he searches for Sky World. He longs to be made new.
Click to return to story collection
www.sliderbase.com
Slide 11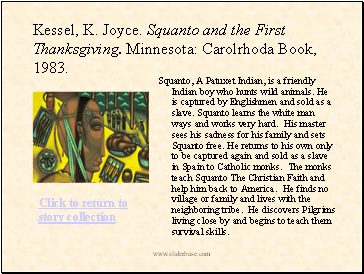 Kessel, K. Joyce. Squanto and the First Thanksgiving. Minnesota: Carolrhoda Book, 1983.
Squanto, A Patuxet Indian, is a friendly Indian boy who hunts wild animals. He is captured by Englishmen and sold as a slave. Squanto learns the white man ways and works very hard. His master sees his sadness for his family and sets Squanto free. He returns to his own only to be captured again and sold as a slave in Spain to Catholic monks. The monks teach Squanto The Christian Faith and help him back to America. He finds no village or family and lives with the neighboring tribe. He discovers Pilgrims living close by and begins to teach them survival skills.
Click to return to story collection
www.sliderbase.com
Slide 12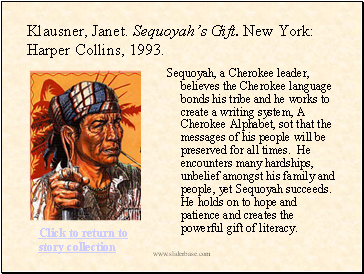 Klausner, Janet. Sequoyah's Gift. New York: Harper Collins, 1993.
Sequoyah, a Cherokee leader, believes the Cherokee language bonds his tribe and he works to create a writing system, A Cherokee Alphabet, sot that the messages of his people will be preserved for all times. He encounters many hardships, unbelief amongst his family and people, yet Sequoyah succeeds. He holds on to hope and patience and creates the powerful gift of literacy.
Click to return to story collection
www.sliderbase.com
Slide 13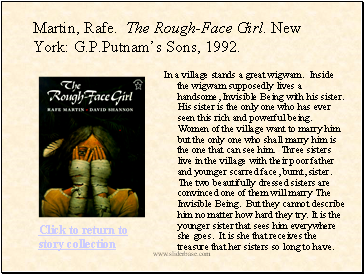 Martin, Rafe. The Rough-Face Girl. New York: G.P.Putnam's Sons, 1992.
In a village stands a great wigwam. Inside the wigwam supposedly lives a handsome, Invisible Being with his sister. His sister is the only one who has ever seen this rich and powerful being. Women of the village want to marry him but the only one who shall marry him is the one that can see him. Three sisters live in the village with their poor father and younger scarred face, burnt, sister. The two beautifully dressed sisters are convinced one of them will marry The Invisible Being. But they cannot describe him no matter how hard they try. It is the younger sister that sees him everywhere she goes. It is she that receives the treasure that her sisters so long to have.