The Underdog Prevails in Indian Legends
Page
4
Click to return to story collection
www.sliderbase.com
Slide 14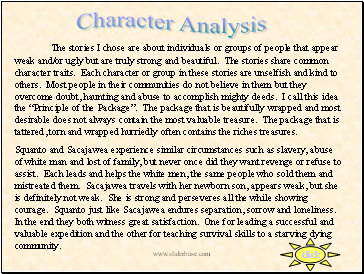 Character Analysis
The stories I chose are about individuals or groups of people that appear weak and/or ugly but are truly strong and beautiful. The stories share common character traits. Each character or group in these stories are unselfish and kind to others. Most people in their communities do not believe in them but they overcome doubt, haunting and abuse to accomplish mighty deeds. I call this idea the "Principle of the Package". The package that is beautifully wrapped and most desirable does not always contain the most valuable treasure. The package that is tattered, torn and wrapped hurriedly often contains the riches treasures.
Squanto and Sacajawea experience similar circumstances such as slavery, abuse of white man and lost of family, but never once did they want revenge or refuse to assist. Each leads and helps the white men, the same people who sold them and mistreated them. Sacajawea travels with her newborn son, appears weak, but she is definitely not weak. She is strong and perseveres all the while showing courage. Squanto just like Sacajawea endures separation, sorrow and loneliness. In the end they both witness great satisfaction. One for leading a successful and valuable expedition and the other for teaching survival skills to a starving dying community.
click
www.sliderbase.com
Slide 15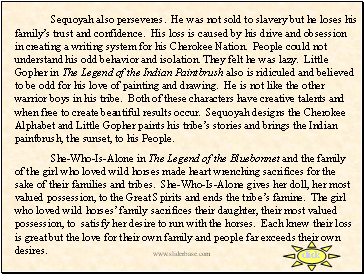 Sequoyah also perseveres. He was not sold to slavery but he loses his family's trust and confidence. His loss is caused by his drive and obsession in creating a writing system for his Cherokee Nation. People could not understand his odd behavior and isolation. They felt he was lazy. Little Gopher in The Legend of the Indian Paintbrush also is ridiculed and believed to be odd for his love of painting and drawing. He is not like the other warrior boys in his tribe. Both of these characters have creative talents and when free to create beautiful results occur. Sequoyah designs the Cherokee Alphabet and Little Gopher paints his tribe's stories and brings the Indian paintbrush, the sunset, to his People.
She-Who-Is-Alone in The Legend of the Bluebonnet and the family of the girl who loved wild horses made heart wrenching sacrifices for the sake of their families and tribes. She-Who-Is-Alone gives her doll, her most valued possession, to the Great Spirits and ends the tribe's famine. The girl who loved wild horses' family sacrifices their daughter, their most valued possession, to satisfy her desire to run with the horses. Each knew their loss is great but the love for their own family and people far exceeds their own desires.
click
www.sliderbase.com
Slide 16