The Underdog Prevails in Indian Legends
Page
6
Sequoyah's Cherokee alphabet symbolizes the preservation of the language, customs and history of his tribe. He wanted more than anything for the Cherokee nation to hold strong to their language and to share it with their children and children's children. Sequoyah's persecutions and tribulations paid off when he saw the Cherokee people reading and writing in their native language.
click
www.sliderbase.com
Slide 19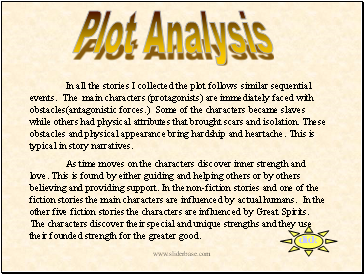 Plot Analysis
In all the stories I collected the plot follows similar sequential events. The main characters (protagonists) are immediately faced with obstacles(antagonistic forces.) Some of the characters became slaves while others had physical attributes that brought scars and isolation. These obstacles and physical appearance bring hardship and heartache. This is typical in story narratives.
As time moves on the characters discover inner strength and love. This is found by either guiding and helping others or by others believing and providing support. In the non-fiction stories and one of the fiction stories the main characters are influenced by actual humans. In the other five fiction stories the characters are influenced by Great Spirits. The characters discover their special and unique strengths and they use their founded strength for the greater good.
click
www.sliderbase.com
Slide 20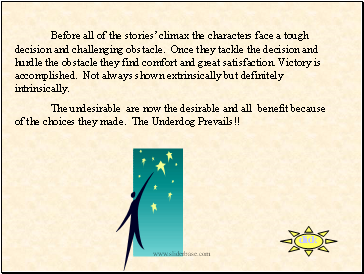 Before all of the stories' climax the characters face a tough decision and challenging obstacle. Once they tackle the decision and hurdle the obstacle they find comfort and great satisfaction. Victory is accomplished. Not always shown extrinsically but definitely intrinsically.
The undesirable are now the desirable and all benefit because of the choices they made. The Underdog Prevails!!
click
www.sliderbase.com
Slide 21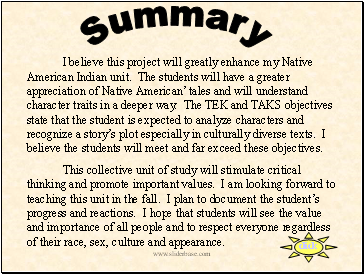 Summary
I believe this project will greatly enhance my Native American Indian unit. The students will have a greater appreciation of Native American' tales and will understand character traits in a deeper way. The TEK and TAKS objectives state that the student is expected to analyze characters and recognize a story's plot especially in culturally diverse texts. I believe the students will meet and far exceed these objectives.
This collective unit of study will stimulate critical thinking and promote important values. I am looking forward to teaching this unit in the fall. I plan to document the student's progress and reactions. I hope that students will see the value and importance of all people and to respect everyone regardless of their race, sex, culture and appearance.
click
www.sliderbase.com
Slide 22