Presidential Cabinet
Page
1
Slide 1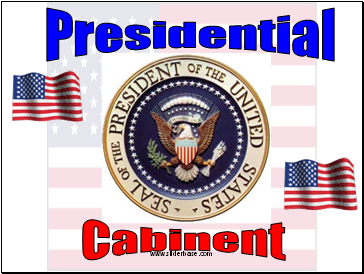 Presidential
Cabinent
www.sliderbase.com
Slide 2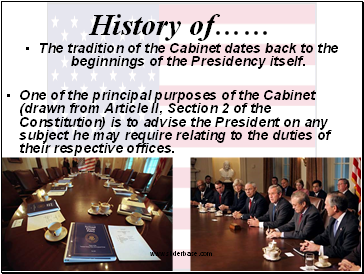 History of……
The tradition of the Cabinet dates back to the beginnings of the Presidency itself.
One of the principal purposes of the Cabinet (drawn from Article II, Section 2 of the Constitution) is to advise the President on any subject he may require relating to the duties of their respective offices.
www.sliderbase.com
Slide 3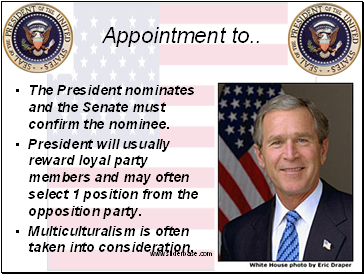 Appointment to
The President nominates and the Senate must confirm the nominee.
President will usually reward loyal party members and may often select 1 position from the opposition party.
Multiculturalism is often taken into consideration.
www.sliderbase.com
Slide 4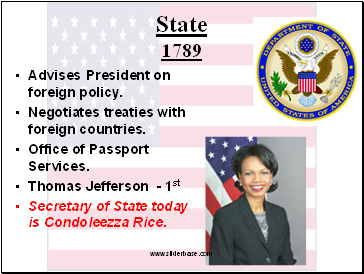 State 1789
Advises President on foreign policy.
Negotiates treaties with foreign countries.
Office of Passport Services.
Thomas Jefferson - 1st
Secretary of State today is Condoleezza Rice.
www.sliderbase.com
Slide 5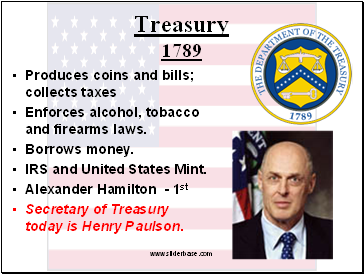 Treasury 1789
Produces coins and bills; collects taxes
Enforces alcohol, tobacco and firearms laws.
Borrows money.
IRS and United States Mint.
Alexander Hamilton - 1st
Secretary of Treasury today is Henry Paulson.
www.sliderbase.com
Slide 6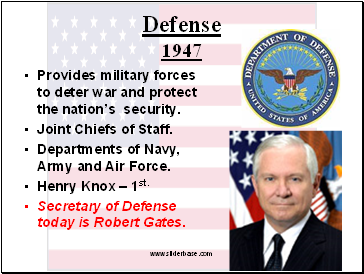 Defense 1947
Provides military forces to deter war and protect the nation's security.
Joint Chiefs of Staff.
Departments of Navy, Army and Air Force.
Henry Knox – 1st.
Secretary of Defense today is Robert Gates.
www.sliderbase.com
Slide 7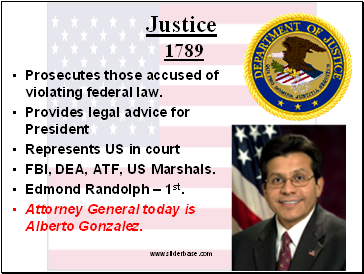 Justice 1789
Prosecutes those accused of violating federal law.
Provides legal advice for President
Represents US in court
FBI, DEA, ATF, US Marshals.
Edmond Randolph – 1st.
Attorney General today is Alberto Gonzalez.
www.sliderbase.com
Slide 8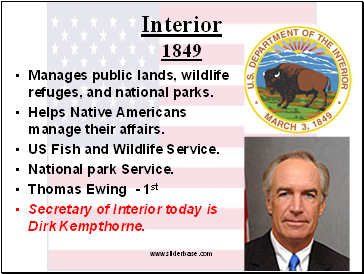 Interior 1849
Manages public lands, wildlife refuges, and national parks.
Helps Native Americans manage their affairs.
US Fish and Wildlife Service.
National park Service.
Thomas Ewing - 1st
Secretary of Interior today is Dirk Kempthorne.
www.sliderbase.com
Slide 9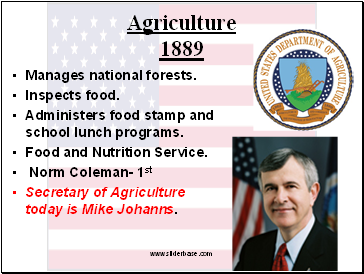 Agriculture 1889
Manages national forests.
Inspects food.