Plains Indians Presentation
Page
1
Slide 1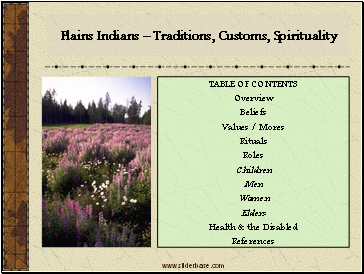 Plains Indians – Traditions, Customs, Spirituality
TABLE OF CONTENTS
Overview
Beliefs
Values / Mores
Rituals
Roles
Children
Men
Women
Elders
Health & the Disabled
References
www.sliderbase.com
Slide 2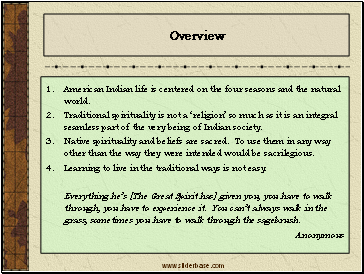 Overview
American Indian life is centered on the four seasons and the natural world.
Traditional spirituality is not a 'religion' so much as it is an integral seamless part of the very being of Indian society.
Native spirituality and beliefs are sacred. To use them in any way other than the way they were intended would be sacrilegious.
Learning to live in the traditional ways is not easy.
Everything he's [The Great Spirit has] given you, you have to walk through, you have to experience it. You can't always walk in the grass, sometimes you have to walk through the sagebrush.
Anonymous
www.sliderbase.com
Slide 3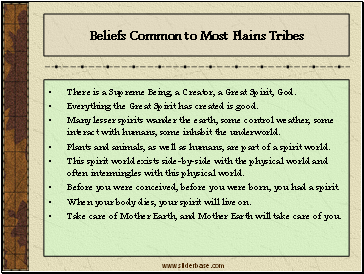 Beliefs Common to Most Plains Tribes
There is a Supreme Being, a Creator, a Great Spirit, God.
Everything the Great Spirit has created is good.
Many lesser spirits wander the earth, some control weather, some interact with humans, some inhabit the underworld.
Plants and animals, as well as humans, are part of a spirit world.
This spirit world exists side-by-side with the physical world and often intermingles with this physical world.
Before you were conceived, before you were born, you had a spirit.
When your body dies, your spirit will live on.
Take care of Mother Earth, and Mother Earth will take care of you.
www.sliderbase.com
Slide 4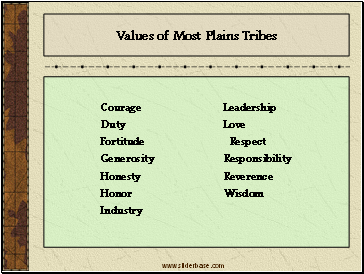 Values of Most Plains Tribes
Courage Leadership
Duty Love
Fortitude Respect
Generosity Responsibility
Honesty Reverence
Honor Wisdom
Industry
www.sliderbase.com
Slide 5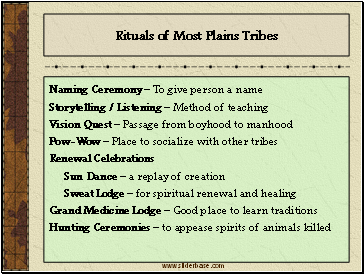 Rituals of Most Plains Tribes
Naming Ceremony – To give person a name
Storytelling / Listening – Method of teaching
Vision Quest – Passage from boyhood to manhood
Pow-Wow – Place to socialize with other tribes
Renewal Celebrations
Sun Dance – a replay of creation
Sweat Lodge – for spiritual renewal and healing
Grand Medicine Lodge – Good place to learn traditions
Hunting Ceremonies – to appease spirits of animals killed
www.sliderbase.com
Slide 6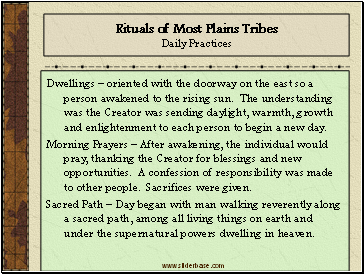 Rituals of Most Plains Tribes
Daily Practices
Dwellings – oriented with the doorway on the east so a person awakened to the rising sun. The understanding was the Creator was sending daylight, warmth, growth and enlightenment to each person to begin a new day.