Creation of Native American Heritage Month
Page
3
Long unrecognized because of the continued value of their language as a security classified code, the Navajo code talkers of World War II were honored for their contributions to defense on Sept. 17, 1992, at the Pentagon, Washington, D.C.
Thirty-five code talkers, all veterans of the U.S. Marine Corps, attended the dedication of the Navajo code talker exhibit. The exhibit includes a display of photographs, equipment and the original code, along with an explanation of how the code worked.
www.sliderbase.com
Slide 12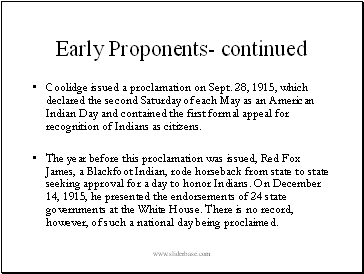 Early Proponents- continued
Coolidge issued a proclamation on Sept. 28, 1915, which declared the second Saturday of each May as an American Indian Day and contained the first formal appeal for recognition of Indians as citizens.
The year before this proclamation was issued, Red Fox James, a Blackfoot Indian, rode horseback from state to state seeking approval for a day to honor Indians. On December 14, 1915, he presented the endorsements of 24 state governments at the White House. There is no record, however, of such a national day being proclaimed.
www.sliderbase.com
Slide 13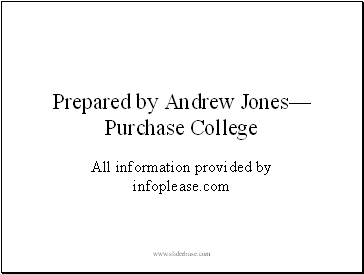 Prepared by Andrew Jones—Purchase College
All information provided by infoplease.com
www.sliderbase.com