Carbon and the Molecular Diversity of Life
Page
6
PROPERTIES
Sulfhydryl
(may be written HS—)
Cysteine
Cysteine is an important sulfur-containing amino acid.
Thiols
Two sulfhydryl groups can react, forming a covalent bond. This "cross-linking" helps stabilize protein structure.
Cross-linking of
cysteines in hair
proteins maintains the curliness or straightness of hair. Straight hair can be "permanently" curled by shaping it around curlers, then breaking
and re-forming the
cross-linking bonds.
Slide 37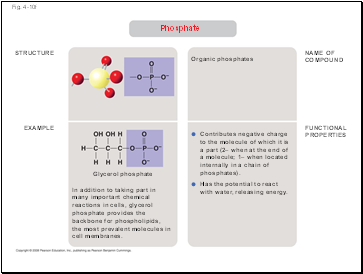 Fig. 4-10f
STRUCTURE
EXAMPLE
NAME OF
COMPOUND
FUNCTIONAL
PROPERTIES
Phosphate
In addition to taking part in many important chemical reactions in cells, glycerol phosphate provides the backbone for phospholipids, the most prevalent molecules in cell membranes.
Glycerol phosphate
Organic phosphates
Contributes negative charge to the molecule of which it is a part (2– when at the end of a molecule; 1– when located internally in a chain of phosphates).
Has the potential to react with water, releasing energy.
Slide 38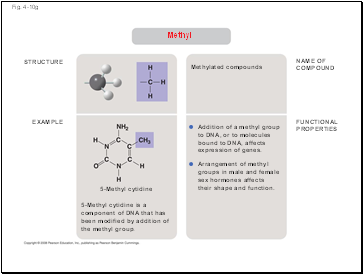 Fig. 4-10g
STRUCTURE
EXAMPLE
NAME OF
COMPOUND
FUNCTIONAL
PROPERTIES
Methyl
5-Methyl cytidine is a component of DNA that has been modified by addition of the methyl group.
5-Methyl cytidine
Methylated compounds
Addition of a methyl group to DNA, or to molecules bound to DNA, affects expression of genes.
Arrangement of methyl groups in male and female sex hormones affects
their shape and function.
Slide 39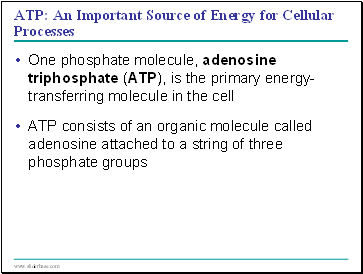 ATP: An Important Source of Energy for Cellular Processes
One phosphate molecule, adenosine triphosphate (ATP), is the primary energy-transferring molecule in the cell
ATP consists of an organic molecule called adenosine attached to a string of three phosphate groups
Slide 40
Fig. 4-UN2
Slide 41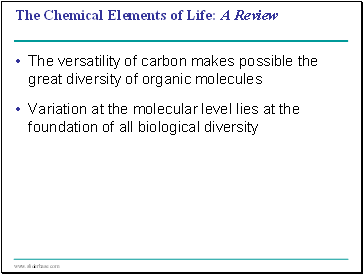 The Chemical Elements of Life: A Review
The versatility of carbon makes possible the great diversity of organic molecules
Variation at the molecular level lies at the foundation of all biological diversity
Slide 42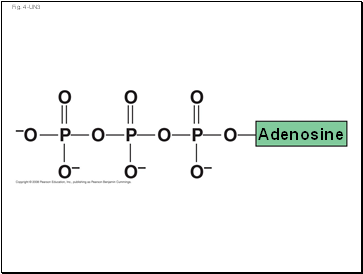 Fig. 4-UN3
Adenosine
Slide 43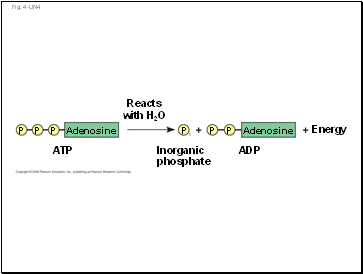 Fig. 4-UN4
P
P
P
P i
P
P
Adenosine
Adenosine
Energy
ADP
ATP
Inorganic phosphate
Reacts with H2O
Slide 44