Descent with Modification A Darwinian View of Life
Page
1
Slide 1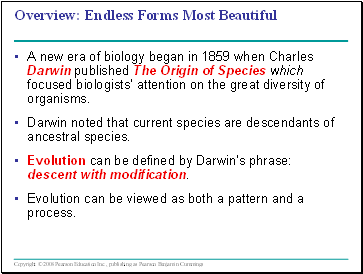 Endless Forms Most Beautiful
A new era of biology began in 1859 when Charles Darwin published The Origin of Species which focused biologists' attention on the great diversity of organisms.
Darwin noted that current species are descendants of ancestral species.
Evolution can be defined by Darwin's phrase: descent with modification.
Evolution can be viewed as both a pattern and a process.
Slide 2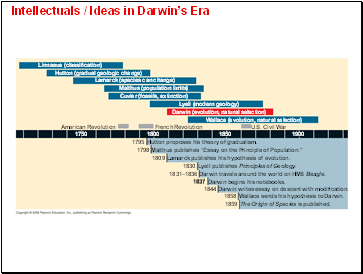 Intellectuals / Ideas in Darwin's Era
American Revolution
French Revolution
U.S. Civil War
1900
1850
1800
1750
1795
1809
1798
1830
1831–1836
1837
1859
1837
1844
1858
The Origin of Species is published.
Wallace sends his hypothesis to Darwin.
Darwin begins his notebooks.
Darwin writes essay on descent with modification.
Darwin travels around the world on HMS Beagle.
Malthus publishes "Essay on the Principle of Population."
Lyell publishes Principles of Geology.
Lamarck publishes his hypothesis of evolution.
Hutton proposes his theory of gradualism.
Linnaeus (classification)
Cuvier (fossils, extinction)
Malthus (population limits)
Lamarck (species can change)
Hutton (gradual geologic change)
Lyell (modern geology)
Darwin (evolution, natural selection)
Wallace (evolution, natural selection)
Slide 3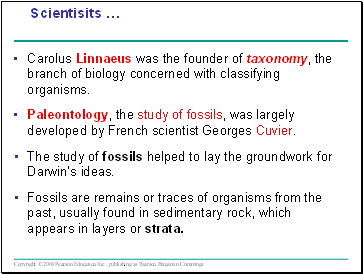 Carolus Linnaeus was the founder of taxonomy, the branch of biology concerned with classifying organisms.
Paleontology, the study of fossils, was largely developed by French scientist Georges Cuvier.
The study of fossils helped to lay the groundwork for Darwin's ideas.
Fossils are remains or traces of organisms from the past, usually found in sedimentary rock, which appears in layers or strata.
Scientisits …
Slide 4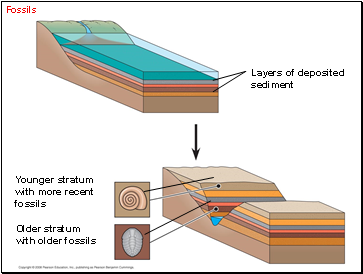 Fossils
Younger stratum
with more recent
fossils
Layers of deposited
sediment
Older stratum
with older fossils
Slide 5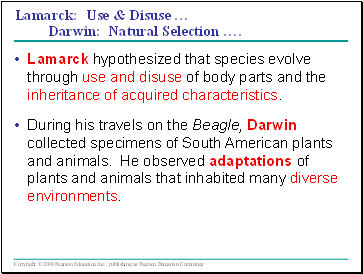 Lamarck: Use & Disuse … Darwin: Natural Selection ….
Lamarck hypothesized that species evolve through use and disuse of body parts and the inheritance of acquired characteristics.
During his travels on the Beagle, Darwin collected specimens of South American plants and animals. He observed adaptations of plants and animals that inhabited many diverse environments.
Slide 6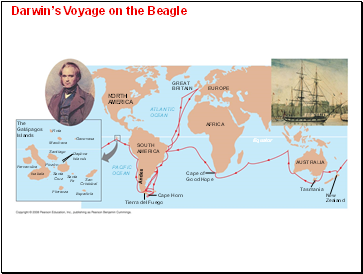 Darwin's Voyage on the Beagle
NORTH
AMERICA
EUROPE
AFRICA