Disclaimer
Page
3
Energy Transfer
Slide 24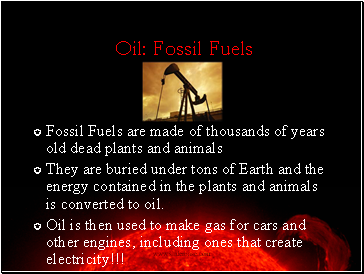 Oil: Fossil Fuels
Fossil Fuels are made of thousands of years old dead plants and animals
They are buried under tons of Earth and the energy contained in the plants and animals is converted to oil.
Oil is then used to make gas for cars and other engines, including ones that create electricity!!!
Slide 25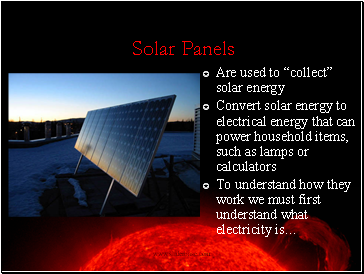 Solar Panels
Are used to "collect" solar energy
Convert solar energy to electrical energy that can power household items, such as lamps or calculators
To understand how they work we must first understand what electricity is…
Slide 26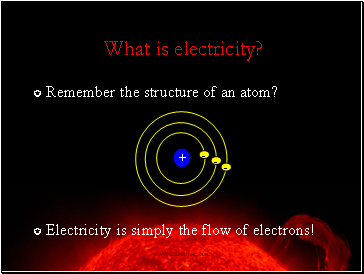 What is electricity?
Remember the structure of an atom?
Electricity is simply the flow of electrons!
Slide 27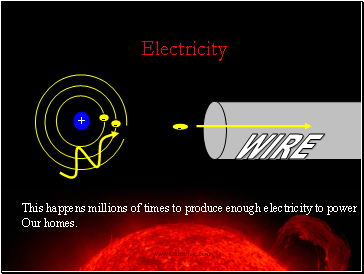 Electricity
-
WIRE
This happens millions of times to produce enough electricity to power
Our homes.
Slide 28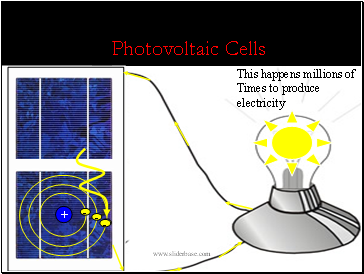 Photovoltaic Cells
-
This happens millions of Times to produce electricity
Slide 29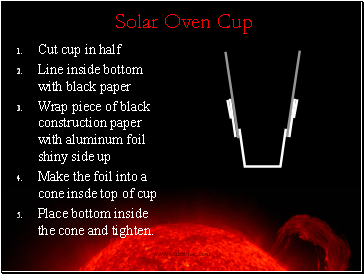 Solar Oven Cup
Cut cup in half
Line inside bottom with black paper
Wrap piece of black construction paper with aluminum foil shiny side up
Make the foil into a cone insde top of cup
Place bottom inside the cone and tighten.