Polymers
Page
1
Slide 1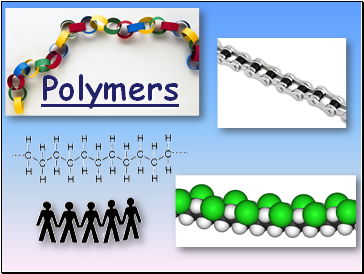 Polymers
Slide 2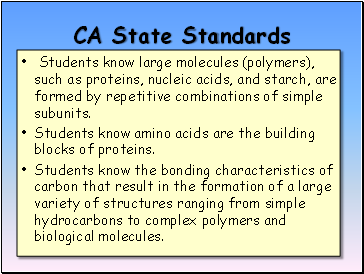 CA State Standards
Students know large molecules (polymers), such as proteins, nucleic acids, and starch, are formed by repetitive combinations of simple subunits.
Students know amino acids are the building blocks of proteins.
Students know the bonding characteristics of carbon that result in the formation of a large variety of structures ranging from simple hydrocarbons to complex polymers and biological molecules.
Slide 3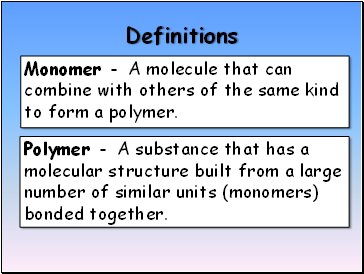 Definitions
Monomer - A molecule that can combine with others of the same kind to form a polymer.
Polymer - A substance that has a molecular structure built from a large number of similar units (monomers) bonded together.
Slide 4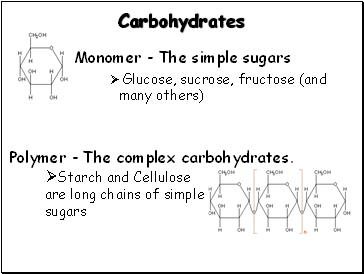 Carbohydrates
Monomer - The simple sugars
Glucose, sucrose, fructose (and many others)
Polymer - The complex carbohydrates.
Starch and Cellulose
are long chains of simple
sugars
Slide 5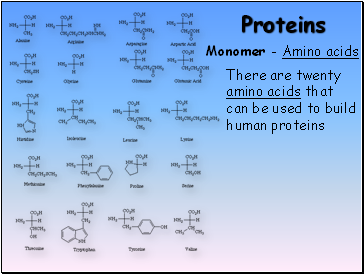 Proteins
Monomer - Amino acids
There are twenty amino acids that can be used to build human proteins
Slide 6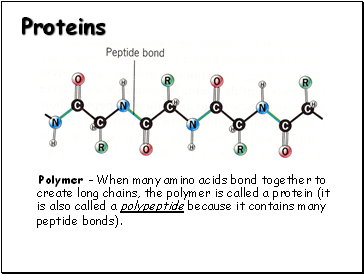 Proteins
Polymer - When many amino acids bond together to create long chains, the polymer is called a protein (it is also called a polypeptide because it contains many peptide bonds).
Slide 7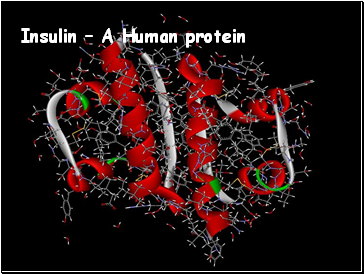 Insulin – A Human protein
Slide 8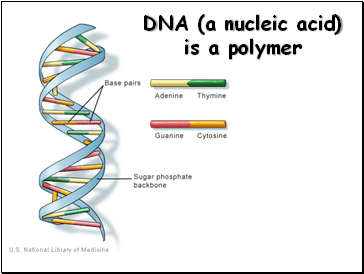 DNA (a nucleic acid) is a polymer
Slide 9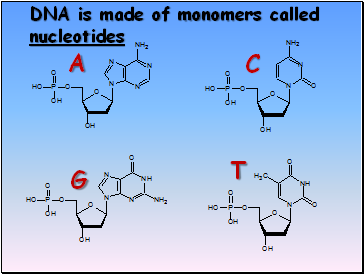 DNA is made of monomers called nucleotides
A
G
T
C
Slide 10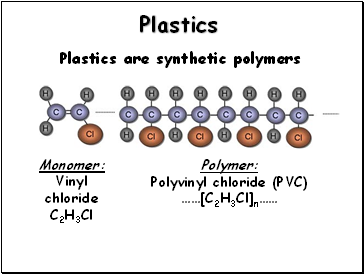 Plastics
Plastics are synthetic polymers
Monomer:
Vinyl
chloride
C2H3Cl
Polymer:
Polyvinyl chloride (PVC)
……[C2H3Cl]n……
Slide 11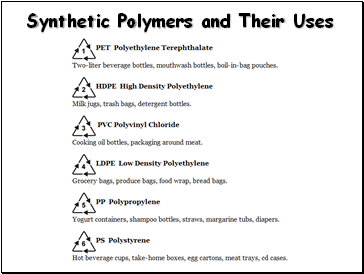 Synthetic Polymers and Their Uses