Practical Applications of Solar Energy
Page
2
30% federal tax credit (maximum residential credit $2,000)
**Based on availability
Slide 10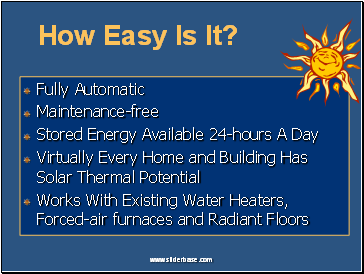 Fully Automatic
Maintenance-free
Stored Energy Available 24-hours A Day
Virtually Every Home and Building Has Solar Thermal Potential
Works With Existing Water Heaters, Forced-air furnaces and Radiant Floors
How Easy Is It?
Slide 11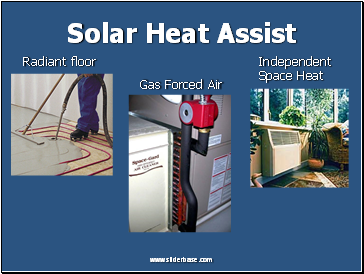 Solar Heat Assist
Gas Forced Air
Radiant floor Independent
Space Heat
Slide 12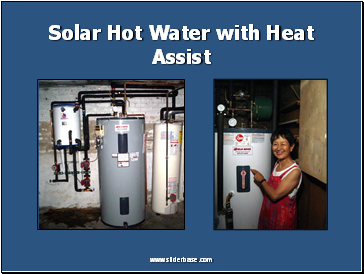 Solar Hot Water with Heat Assist
Slide 13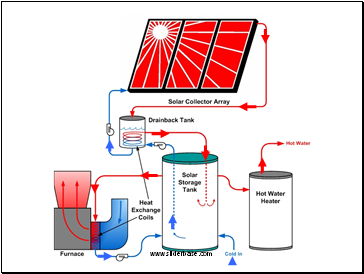 Slide 14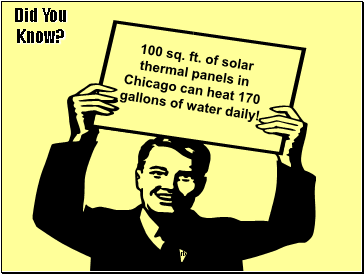 100 sq. ft. of solar thermal panels in Chicago can heat 170 gallons of water daily!
Did You Know?
Slide 15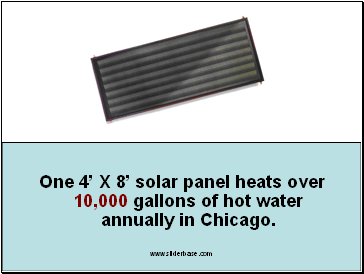 One 4' X 8' solar panel heats over 10,000 gallons of hot water annually in Chicago.
Slide 16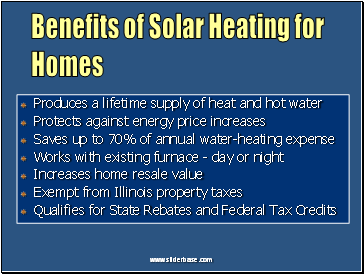 Benefits of Solar Heating for Homes
Produces a lifetime supply of heat and hot water
Protects against energy price increases
Saves up to 70% of annual water-heating expense
Works with existing furnace - day or night
Increases home resale value
Exempt from Illinois property taxes
Qualifies for State Rebates and Federal Tax Credits
Slide 17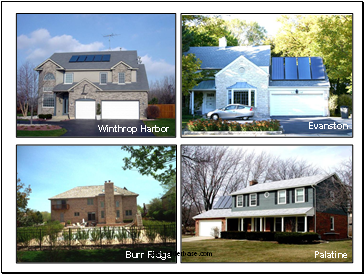 Solar Service Inc
Lincoln Wood
Zion
Evanston
Arlington Heights
Wilmette
Winthrop Harbor
Arlington Heights
Arlington Heights
Burr Ridge
Evanston
Palatine
Slide 18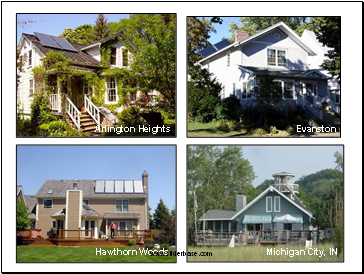 Solar Service Inc
Lincoln Wood
Zion
Evanston
Arlington Heights
Wilmette
Evanston
Wilmette
Naperville
Spring Grove
Evanston
Carol Stream
Chicago
Highland Park
Deerfield
Evanston
Michigan City, IN
Arlington Heights
Evanston
Hawthorn Woods
Slide 19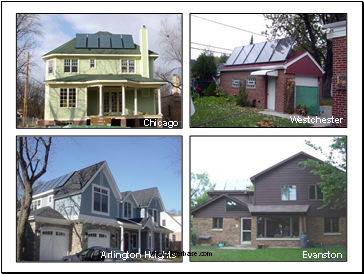 Solar Service Inc
Lincoln Wood
Zion
Evanston
Arlington Heights
Wilmette
Evanston
Wilmette
Naperville
Spring Grove
Carol Stream
Chicago
Winthrop Harbor
Evanston
Westchester
Deerfield
Deerfield
Chicago
Westchester
Deerfield
Evanston
Arlington Heights
Slide 20