The Characteristics of the Greek Hero
Page
1
Slide 1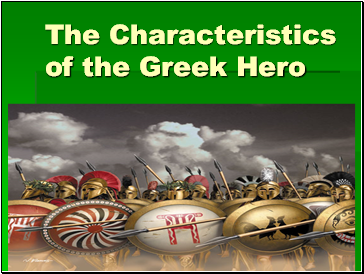 The Characteristics of the Greek Hero
Slide 2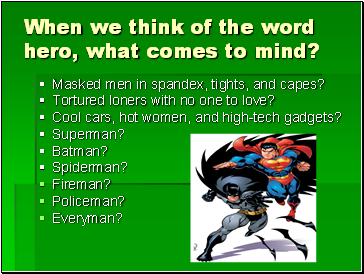 When we think of the word hero, what comes to mind?
Masked men in spandex, tights, and capes?
Tortured loners with no one to love?
Cool cars, hot women, and high-tech gadgets?
Superman?
Batman?
Spiderman?
Fireman?
Policeman?
Everyman?
Slide 3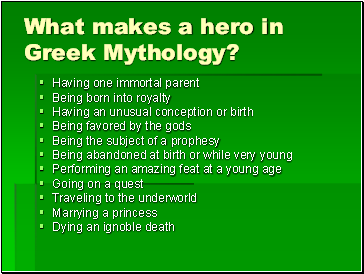 What makes a hero in Greek Mythology?
Having one immortal parent
Being born into royalty
Having an unusual conception or birth
Being favored by the gods
Being the subject of a prophesy
Being abandoned at birth or while very young
Performing an amazing feat at a young age
Going on a quest
Traveling to the underworld
Marrying a princess
Dying an ignoble death
Slide 4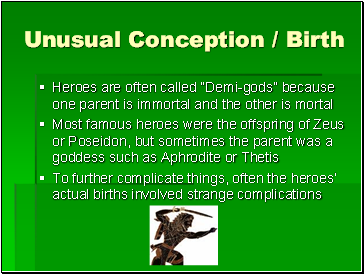 Unusual Conception / Birth
Heroes are often called "Demi-gods" because one parent is immortal and the other is mortal
Most famous heroes were the offspring of Zeus or Poseidon, but sometimes the parent was a goddess such as Aphrodite or Thetis
To further complicate things, often the heroes' actual births involved strange complications
Slide 5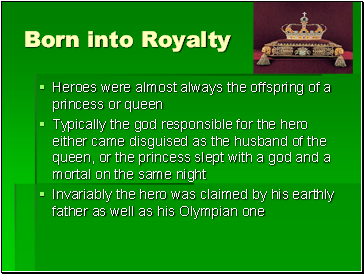 Born into Royalty
Heroes were almost always the offspring of a princess or queen
Typically the god responsible for the hero either came disguised as the husband of the queen, or the princess slept with a god and a mortal on the same night
Invariably the hero was claimed by his earthly father as well as his Olympian one
Slide 6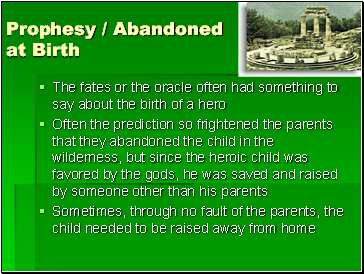 Prophesy / Abandoned at Birth
The fates or the oracle often had something to say about the birth of a hero
Often the prediction so frightened the parents that they abandoned the child in the wilderness, but since the heroic child was favored by the gods, he was saved and raised by someone other than his parents
Sometimes, through no fault of the parents, the child needed to be raised away from home
Slide 7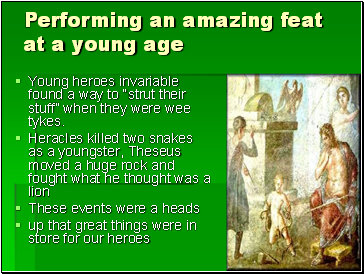 Performing an amazing feat at a young age
Young heroes invariable found a way to "strut their stuff" when they were wee tykes.
Heracles killed two snakes as a youngster, Theseus moved a huge rock and fought what he thought was a lion
These events were a heads
up that great things were in store for our heroes
Slide 8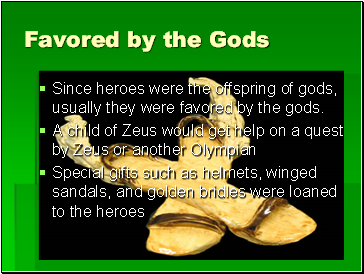 Favored by the Gods