Surface exploration of Mars
Page
2
+Large risk with rocket launch
+Much much more costly! (although more costly for manned than unmanned)
+Lifetime is usually shorter
+Upgrades much more difficult
+Risks from UV radiation, cosmic rays
Slide 7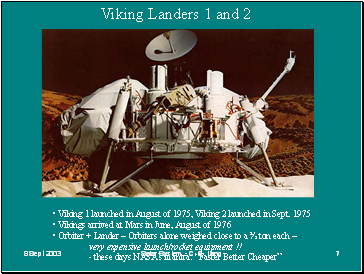 Viking Landers 1 and 2
• Viking 1 launched in August of 1975, Viking 2 launched in Sept. 1975
• Vikings arrived at Mars in June, August of 1976
• Orbiter + Lander – Orbiters alone weighed close to a ½ ton each –
very expensive launch/rocket equipment !!
- these days NASA's mantra: "Faster Better Cheaper"
Slide 8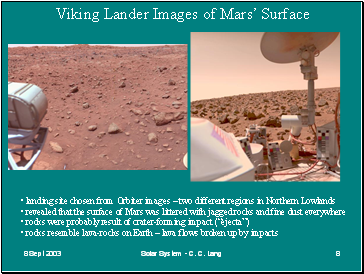 Viking Lander Images of Mars' Surface
• landing site chosen from Orbiter images – two different regions in Northern Lowlands
• revealed that the surface of Mars was littered with jagged rocks and fine dust everywhere
• rocks were probably result of crater-forming impact ("ejecta")
• rocks resemble lava-rocks on Earth – lava flows broken up by impacts
Slide 9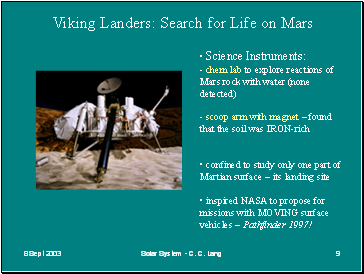 Viking Landers: Search for Life on Mars
• Science Instruments:
- chem lab to explore reactions of Mars rock with water (none detected)
- scoop arm with magnet – found that the soil was IRON-rich
• confined to study only one part of Martian surface – its landing site
• inspired NASA to propose for
missions with MOVING surface
vehicles – Pathfinder 1997!
Slide 10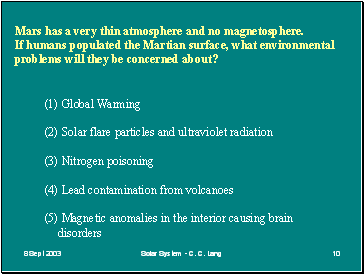 Mars has a very thin atmosphere and no magnetosphere.
If humans populated the Martian surface, what environmental
problems will they be concerned about?
• Global Warming
(2) Solar flare particles and ultraviolet radiation
(3) Nitrogen poisoning
(4) Lead contamination from volcanoes
(5) Magnetic anomalies in the interior causing brain disorders
Slide 11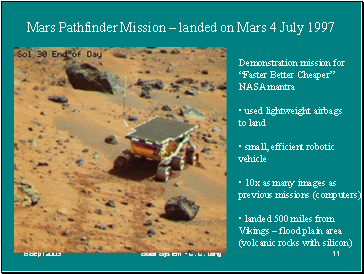 Mars Pathfinder Mission – landed on Mars 4 July 1997
Demonstration mission for
"Faster Better Cheaper"
NASA mantra
• used lightweight airbags
to land
• small, efficient robotic
vehicle
• 10x as many images as
previous missions (computers)
• landed 500 miles from
Vikings – flood plain area
(volcanic rocks with silicon)
Slide 12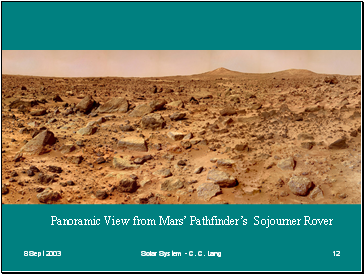 Panoramic View from Mars' Pathfinder's Sojourner Rover
Slide 13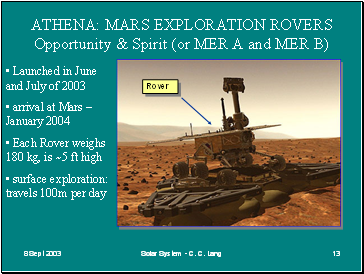 ATHENA: MARS EXPLORATION ROVERS Opportunity & Spirit (or MER A and MER B)
ATHENA: MARS EXPLORATION ROVERS Opportunity & Spirit (or MER A and MER B)