Surface exploration of Mars
Page
3
• Launched in June and July of 2003
• arrival at Mars – January 2004
• Each Rover weighs 180 kg, is ~5 ft high
• surface exploration: travels 100m per day
Slide 14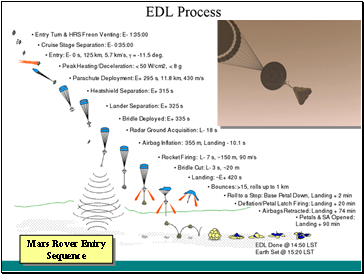 ATHENA: MARS EXPLORATION ROVER
Slide 15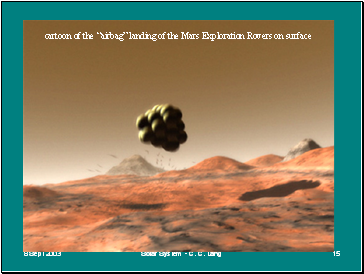 cartoon of the "airbag" landing of the Mars Exploration Rovers on surface
Slide 16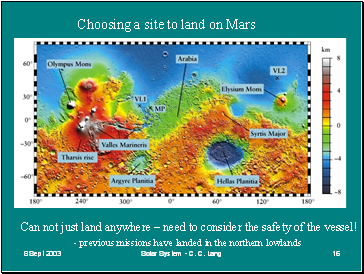 Choosing a site to land on Mars
Can not just land anywhere – need to consider the safety of the vessel!
Slide 17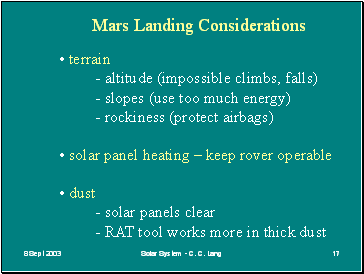 Mars Landing Considerations
• terrain
- altitude (impossible climbs, falls)
- slopes (use too much energy)
- rockiness (protect airbags)
• solar panel heating – keep rover operable
• dust
- solar panels clear
- RAT tool works more in thick dust
Slide 18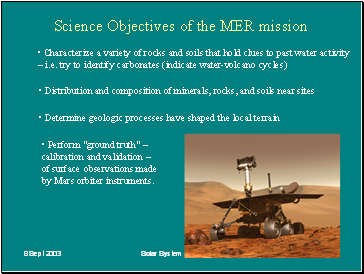 Science Objectives of the MER mission
• Characterize a variety of rocks and soils that hold clues to past water activity
– i.e. try to identify carbonates (indicate water-volcano cycles)
Distribution and composition of minerals, rocks, and soils near sites
Determine geologic processes have shaped the local terrain
• Perform "ground truth" –
calibration and validation –
of surface observations made
by Mars orbiter instruments.
Slide 19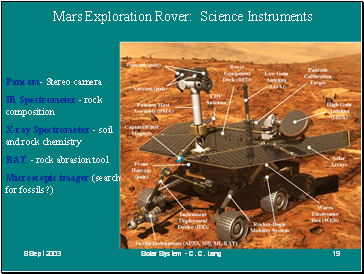 Mars Exploration RoMars Exploration Rover: Science Instruments
ver: Science Instruments
Pancam- Stereo camera
IR Spectrometer - rock composition
X-ray Spectrometer - soil and rock chemistry
RAT - rock abrasion tool
Microscopic imager (search for fossils?)
Slide 20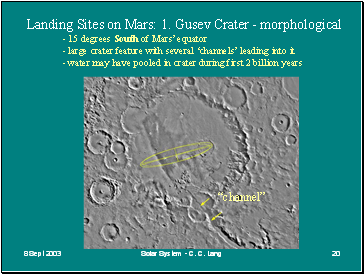 Landing Sites on Mars: 1. Gusev Crater - morphological
- 15 degrees South of Mars' equator
- large crater feature with several 'channels' leading into it
- water may have pooled in crater during first 2 billion years
Slide 21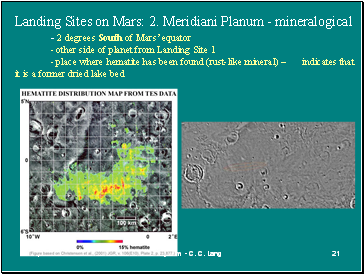 Landing Sites on Mars: 2. Meridiani Planum - mineralogical
- 2 degrees South of Mars' equator
- other side of planet from Landing Site 1
- place where hematite has been found (rust-like mineral) – indicates that it is a former dried lake bed
Slide 22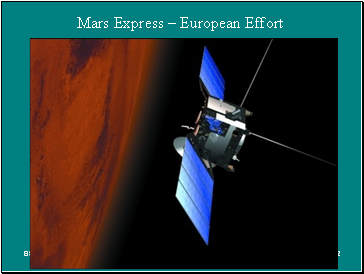 Mars Express – European Effort
Slide 23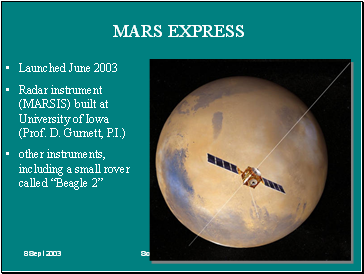 Mars Express