A New Government
Page
3
9 of 13 states needed to approve for the new gov't to take place
Slide 21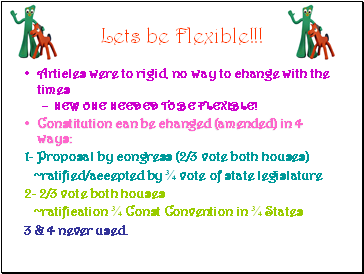 Lets be Flexible!!!
Articles were to rigid, no way to change with the times
NEW ONE NEEDED TO BE FLEXIBLE!
Constitution can be changed (amended) in 4 ways:
1- Proposal by congress (2/3 vote both houses)
~ratified/accepted by ¾ vote of state legislature
2- 2/3 vote both houses
~ratification ¾ Const Convention in ¾ States
3 & 4 never used.
Slide 22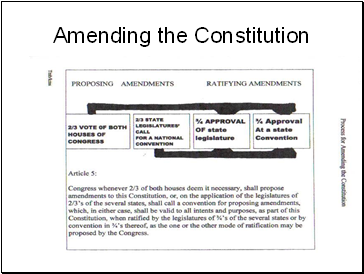 Amending the Constitution
Slide 23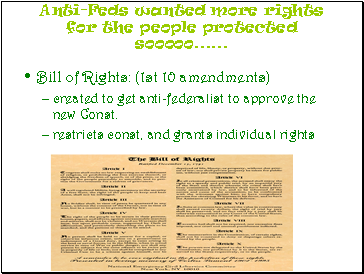 Anti-Feds wanted more rights for the people protected sooooo……
Bill of Rights: (1st 10 amendments)
created to get anti-federalist to approve the new Const.
restricts const, and grants individual rights
Slide 24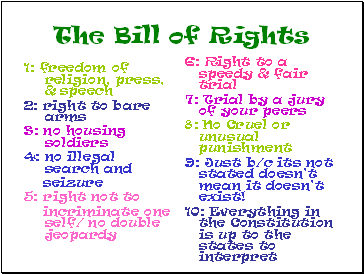 The Bill of Rights
1: freedom of religion, press, & speech
2: right to bare arms
3: no housing soldiers
4: no illegal search and
seizure
5: right not to
incriminate one self/ no double jeopardy
6: Right to a speedy & fair trial
7: Trial by a jury of your peers
8: No Cruel or unusual punishment
9: Just b/c its not stated doesn't mean it doesn't exist!
10: Everything in the Constitution is up to the states to interpret
Slide 25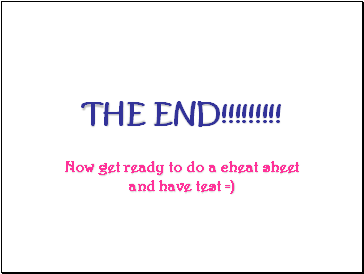 THE END!!!!!!!!!
Now get ready to do a cheat sheet and have test =)