Muhammad Ali
Page
2
Slide 6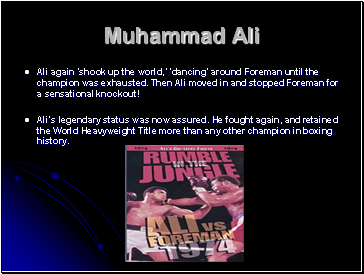 Muhammad Ali
Ali again 'shook up the world,' 'dancing' around Foreman until the champion was exhausted. Then Ali moved in and stopped Foreman for a sensational knockout!
Ali's legendary status was now assured. He fought again, and retained the World Heavyweight Title more than any other champion in boxing history.
Slide 7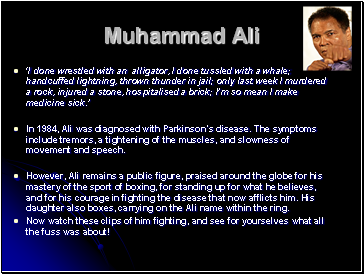 Muhammad Ali
'I done wrestled with an alligator, I done tussled with a whale; handcuffed lightning, thrown thunder in jail; only last week I murdered a rock, injured a stone, hospitalised a brick; I'm so mean I make medicine sick.'
In 1984, Ali was diagnosed with Parkinson's disease. The symptoms include tremors, a tightening of the muscles, and slowness of movement and speech.
However, Ali remains a public figure, praised around the globe for his mastery of the sport of boxing, for standing up for what he believes, and for his courage in fighting the disease that now afflicts him. His daughter also boxes, carrying on the Ali name within the ring.
Now watch these clips of him fighting, and see for yourselves what all the fuss was about!