Wedding in pakistan
Page
1
Slide 1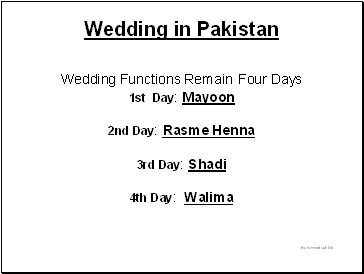 Wedding in Pakistan
Wedding Functions Remain Four Days 1st Day: Mayoon 2nd Day: Rasme Henna 3rd Day: Shadi 4th Day: Walima By Ammad-ud-Din
Slide 2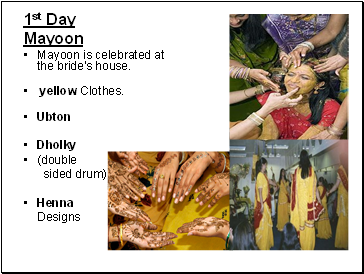 1st Day Mayoon
Mayoon is celebrated at the bride's house.
yellow Clothes.
Ubton
Dholky
(double
sided drum)
Henna Designs
Slide 3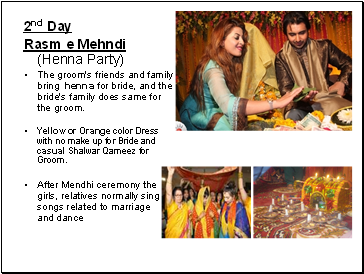 2nd Day Rasm e Mehndi (Henna Party)
The groom's friends and family bring henna for bride, and the bride's family does same for the groom.
Yellow or Orange color Dress with no make up for Bride and casual Shalwar Qameez for Groom.
After Mendhi ceremony the girls, relatives normally sing songs related to marriage and dance
Slide 4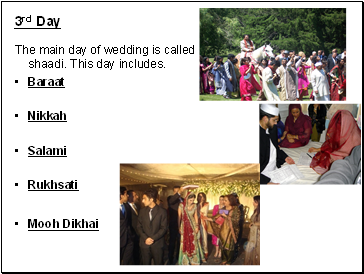 3rd Day
The main day of wedding is called shaadi. This day includes.
Baraat
Nikkah
Salami
Rukhsati
Mooh Dikhai
Slide 5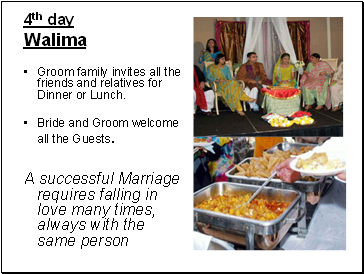 4th day Walima
Groom family invites all the friends and relatives for Dinner or Lunch.
Bride and Groom welcome all the Guests.
A successful Marriage requires falling in love many times, always with the same person