Adverbs
Page
1
Slide 1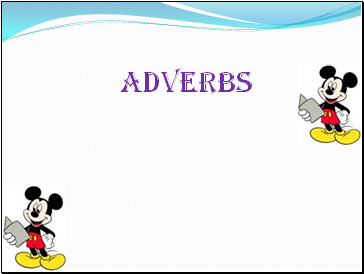 Adverbs
Slide 2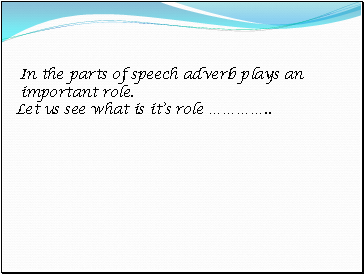 In the parts of speech adverb plays an important role. Let us see what is it's role …………
Slide 3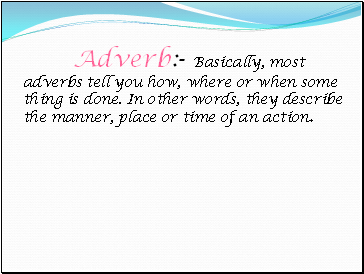 Adverb:- Basically, most adverbs tell you how, where or when some thing is done. In other words, they describe the manner, place or time of an action.
Slide 4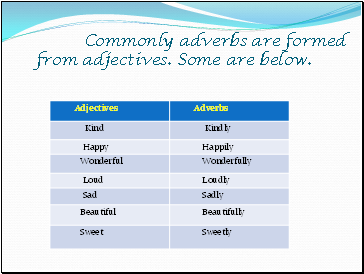 Commonly adverbs are formed from adjectives. Some are below.
Slide 5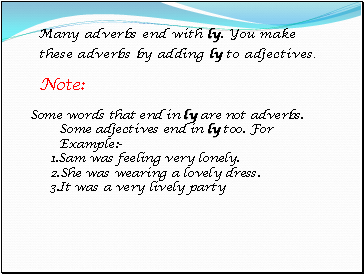 Many adverbs end with ly. You make these adverbs by adding ly to adjectives.
Some words that end in ly are not adverbs. Some adjectives end in ly too. For Example:-
1.Sam was feeling very lonely.
2.She was wearing a lovely dress.
3.It was a very lively party
Note:
Slide 6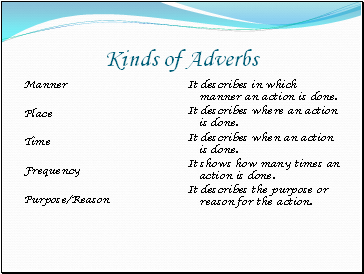 Kinds of Adverbs
Manner
Place
Time
Frequency
Purpose/Reason
It describes in which manner an action is done.
It describes where an action is done.
It describes when an action is done.
It shows how many times an action is done.
It describes the purpose or reason for the action.
Slide 7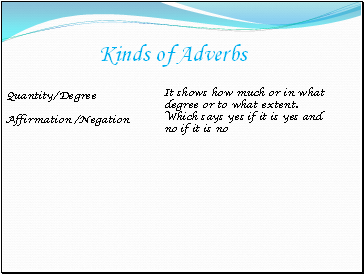 Quantity/Degree
Affirmation /Negation
It shows how much or in what degree or to what extent.
Which says yes if it is yes and no if it is no
Kinds of Adverbs
Slide 8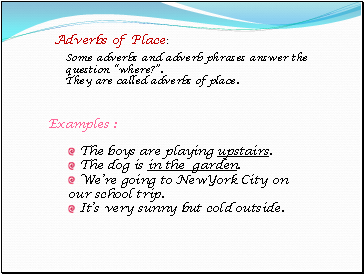 Examples :
The boys are playing upstairs.
The dog is in the garden.
We're going to NewYork City on our school trip.
It's very sunny but cold outside.
Adverbs of Place:
Some adverbs and adverb phrases answer the question "where?".
They are called adverbs of place.
Slide 9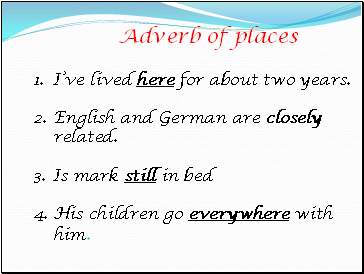 Adverb of places
I've lived here for about two years.
English and German are closely related.
Is mark still in bed
His children go everywhere with him.
Slide 10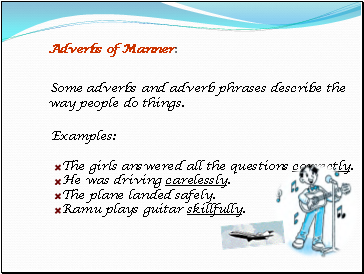 Examples:
The girls answered all the questions correctly.
He was driving carelessly.
The plane landed safely.
Ramu plays guitar skillfully.
Adverbs of Manner:
Some adverbs and adverb phrases describe the way people do things.
Slide 11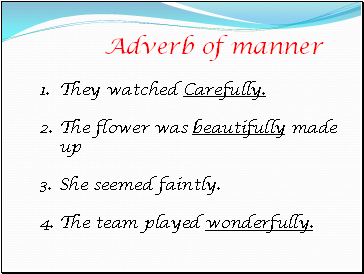 Adverb of manner