Nouns
Page
1
Slide 1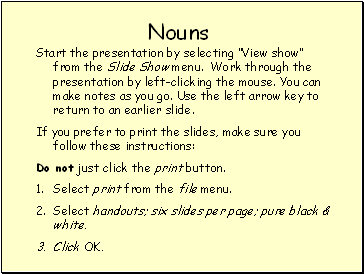 Nouns
Start the presentation by selecting "View show" from the Slide Show menu. Work through the presentation by left-clicking the mouse. You can make notes as you go. Use the left arrow key to return to an earlier slide.
If you prefer to print the slides, make sure you follow these instructions:
Do not just click the print button.
Select print from the file menu.
Select handouts; six slides per page; pure black & white.
Click OK.
Slide 2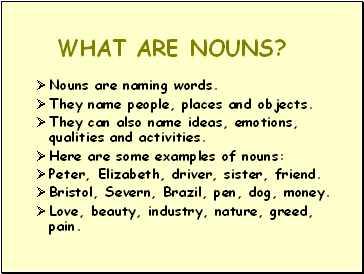 What are nouns?
Nouns are naming words.
They name people, places and objects.
They can also name ideas, emotions, qualities and activities.
Here are some examples of nouns:
Peter, Elizabeth, driver, sister, friend.
Bristol, Severn, Brazil, pen, dog, money.
Love, beauty, industry, nature, greed, pain.
Slide 3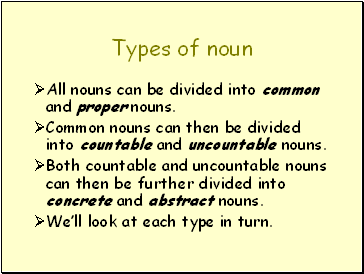 Types of noun
All nouns can be divided into common and proper nouns.
Common nouns can then be divided into countable and uncountable nouns.
Both countable and uncountable nouns can then be further divided into concrete and abstract nouns.
We'll look at each type in turn.
Slide 4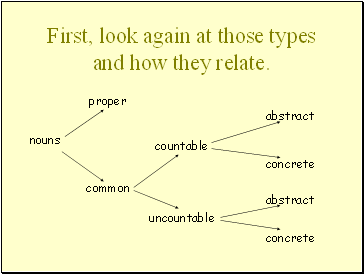 First, look again at those types and how they relate.
nouns
proper
common
countable
uncountable
abstract
concrete
abstract
concrete
Slide 5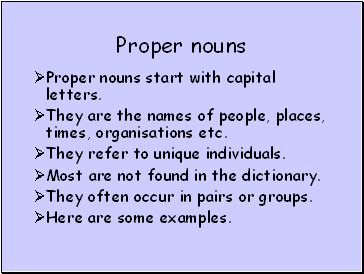 Proper nouns
Proper nouns start with capital letters.
They are the names of people, places, times, organisations etc.
They refer to unique individuals.
Most are not found in the dictionary.
They often occur in pairs or groups.
Here are some examples.
Slide 6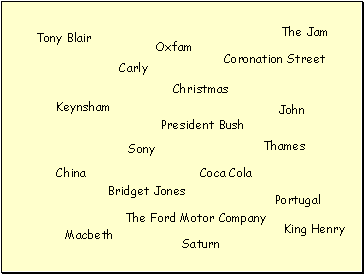 Tony Blair
King Henry
Bridget Jones
Christmas
China
Thames
Keynsham
Sony
Coca Cola
Macbeth
President Bush
The Jam
Coronation Street
Saturn
Carly
John
Portugal
The Ford Motor Company
Oxfam
Slide 7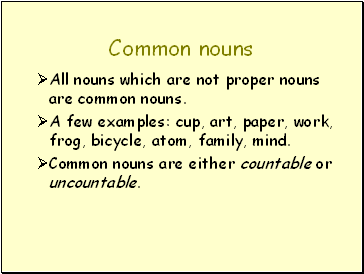 Common nouns
All nouns which are not proper nouns are common nouns.
A few examples: cup, art, paper, work, frog, bicycle, atom, family, mind.
Common nouns are either countable or uncountable.
Slide 8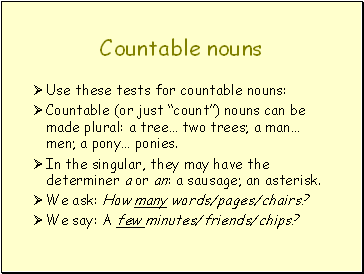 Countable nouns
Use these tests for countable nouns:
Countable (or just "count") nouns can be made plural: a tree… two trees; a man… men; a pony… ponies.