Prepositions
Page
3
What's the answer to this question?
Is there a reason for this delay?
What's the matter with you?
Here's an example of good behavior.
Congratulations on winning the competition!
Traffic can cause damage to the environment.
Slide 16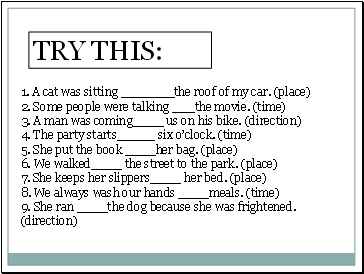 1. A cat was sitting _the roof of my car. (place)
2. Some people were talking _the movie. (time)
3. A man was coming us on his bike. (direction)
4. The party starts _ six o'clock. (time)
5. She put the book her bag. (place)
6. We walked the street to the park. (place)
7. She keeps her slippers her bed. (place)
8. We always wash our hands meals. (time)
9. She ran the dog because she was frightened. (direction)
TRY THIS:
Slide 17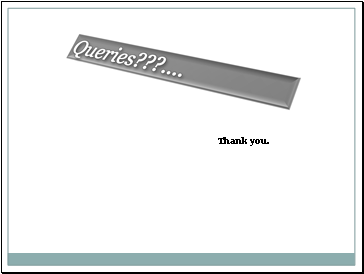 Queries???
Thank you.