Proof Reading
Page
2
Slide 9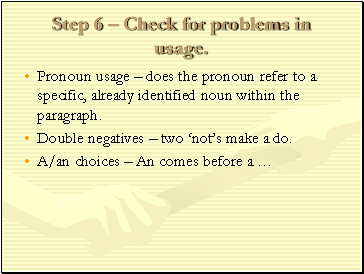 Step 6 – Check for problems in usage.
Pronoun usage – does the pronoun refer to a specific, already identified noun within the paragraph.
Double negatives – two 'not's make a do.
A/an choices – An comes before a …
Slide 10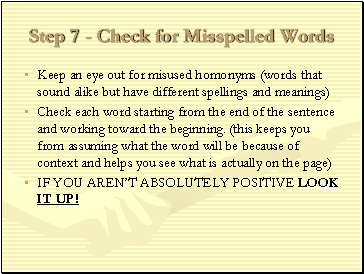 Step 7 - Check for Misspelled Words
Keep an eye out for misused homonyms (words that sound alike but have different spellings and meanings)
Check each word starting from the end of the sentence and working toward the beginning. (this keeps you from assuming what the word will be because of context and helps you see what is actually on the page)
IF YOU AREN'T ABSOLUTELY POSITIVE LOOK IT UP!
Slide 11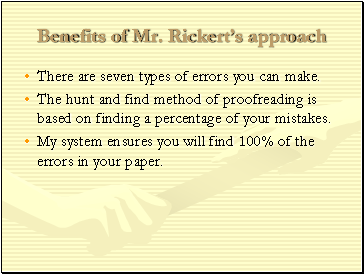 Benefits of Mr. Rickert's approach
There are seven types of errors you can make.
The hunt and find method of proofreading is based on finding a percentage of your mistakes.
My system ensures you will find 100% of the errors in your paper.