The IEP (Individualized Educational Plan)
Page
2
Individualization of IEP
Classification
Parental involvement
Teacher involvement
Collaboration of what best suites student's needs
(Wright and Wright, 1998)
Slide 8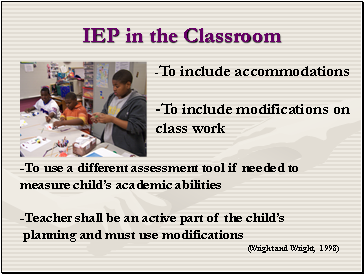 IEP in the Classroom
-To include accommodations
-To include modifications on
class work
-To use a different assessment tool if needed to measure child's academic abilities
-Teacher shall be an active part of the child's
planning and must use modifications
(Wright and Wright, 1998)
Slide 9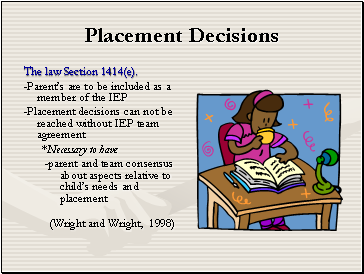 Placement Decisions
The law Section 1414(e).
-Parent's are to be included as a member of the IEP
-Placement decisions can not be reached without IEP team agreement
*Necessary to have:
-parent and team consensus about aspects relative to child's needs and placement
(Wright and Wright, 1998)
Slide 10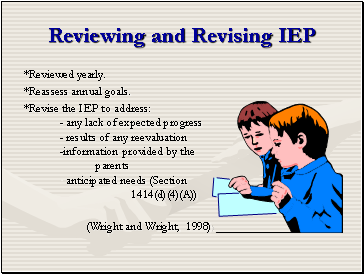 Reviewing and Revising IEP
*Reviewed yearly.
*Reassess annual goals.
*Revise the IEP to address: - any lack of expected progress - results of any reevaluation -information provided by the parents · anticipated needs (Section 1414(d)(4)(A))
(Wright and Wright, 1998))
Slide 11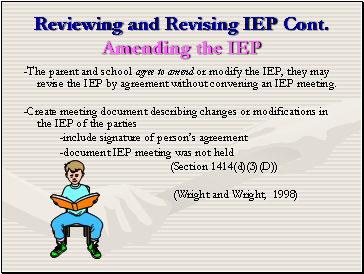 Reviewing and Revising IEP Cont. Amending the IEP
-The parent and school agree to amend or modify the IEP, they may revise the IEP by agreement without convening an IEP meeting.
-Create meeting document describing changes or modifications in the IEP of the parties
-include signature of person's agreement
-document IEP meeting was not held
(Section 1414(d)(3)(D))
(Wright and Wright, 1998)
Slide 12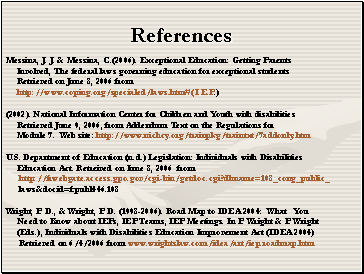 References
Messina, J. J. & Messina, C.(2006). Exceptional Education: Getting Parents
Involved, The federal laws governing education for exceptional students
Retrieved on June 8, 2006 from
http://www.coping.org/specialed/laws.htm#(I.E.P.)
(2002). National Information Center for Children and Youth with disabilities
Retrieved June 9, 2006, from Addendum Text on the Regulations for
Module 7. Web site: http://www.nichcy.org/trainpkg/traintxt/7addonly.htm
U.S. Department of Education (n.d.) Legislation: Individuals with Disabilities
Education Act. Retreived on Iune 8, 2006 from
http://frwebgate.access.gpo.gov/cgi-bin/getdoc.cgi?dbname=108_cong_public_
laws&docid=f:publ446.108
Wright, P. D., & Wright, P. D. (1998-2006). Road Map to IDEA 2004: What You
Need to Know about IEPs, IEP Teams, IEP Meetings. In P. Wright & P. Wright
(Eds.), Individuals with Disabilities Education Improvement Act (IDEA 2004)