Ancient Civilizations
Page
3
The Egyptians took out all of the internal organs, except the heart. When they removed them the organs were put in canopic jars, that were put in the tomb with the mummy. They did not take out the heart because it was believed to be the intelligence and emotion of the person. The Egyptians thought the brain had no significant value, so they took it out through the nose. The body was packed and covered with natron (a salty drying agent). After this the body was left for 40-50 days.
Slide 32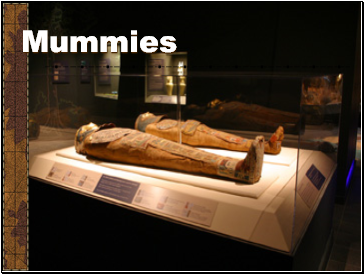 Mummies
Slide 33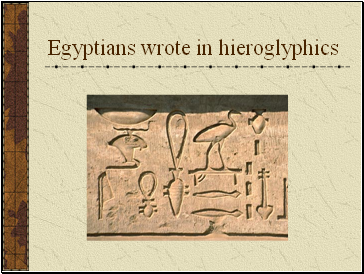 Egyptians wrote in hieroglyphics
Slide 34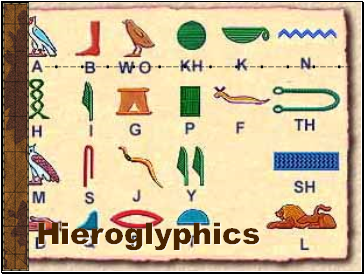 Hieroglyphics
Slide 35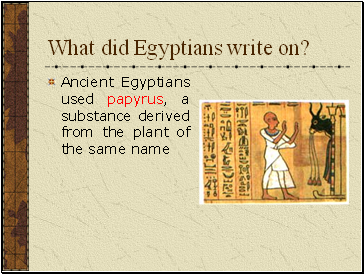 What did Egyptians write on?
Ancient Egyptians used papyrus, a substance derived from the plant of the same name
Slide 36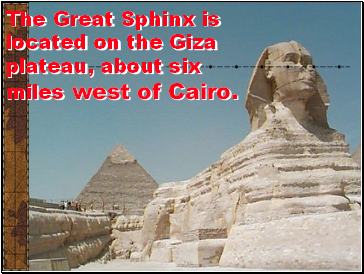 The Great Sphinx is located on the Giza plateau, about six miles west of Cairo.
Slide 37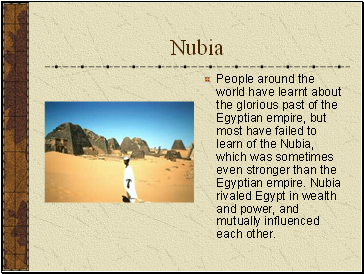 Nubia
People around the world have learnt about the glorious past of the Egyptian empire, but most have failed to learn of the Nubia, which was sometimes even stronger than the Egyptian empire. Nubia rivaled Egypt in wealth and power, and mutually influenced each other.
Slide 38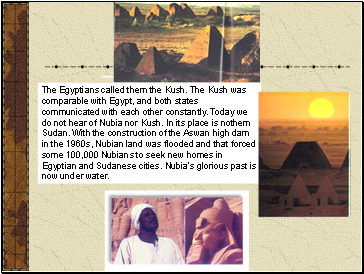 The Egyptians called them the Kush. The Kush was comparable with Egypt, and both states communicated with each other constantly. Today we do not hear of Nubia nor Kush. In its place is nothern Sudan. With the construction of the Aswan high dam in the 1960s, Nubian land was flooded and that forced some 100,000 Nubians to seek new homes in Egyptian and Sudanese cities. Nubia's glorious past is now under water.
Slide 39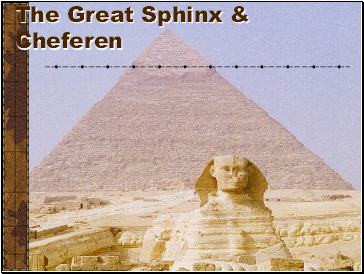 The Great Sphinx & Cheferen
Slide 40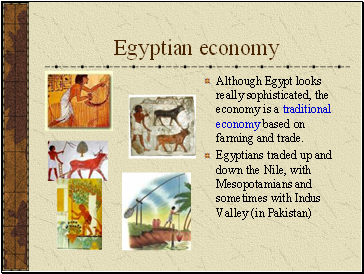 Egyptian economy
Although Egypt looks really sophisticated, the economy is a traditional economy based on farming and trade.
Egyptians traded up and down the Nile, with Mesopotamians and sometimes with Indus Valley (in Pakistan)
Slide 41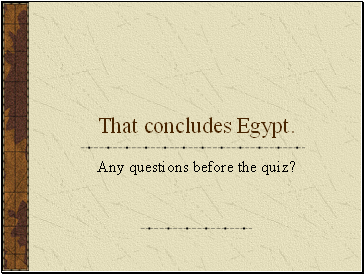 That concludes Egypt.
Any questions before the quiz?
Slide 42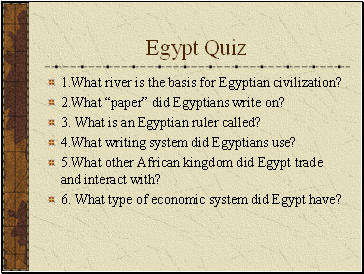 Egypt Quiz
1.What river is the basis for Egyptian civilization?