Early Christian Ireland
Page
1
Slide 1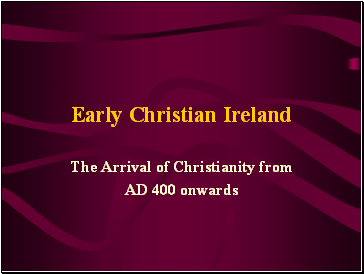 Early Christian Ireland
The Arrival of Christianity from
AD 400 onwards
Slide 2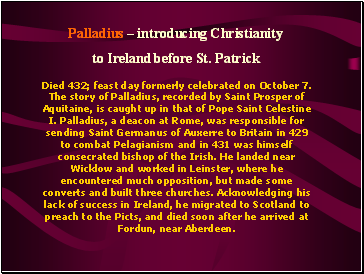 Palladius – introducing Christianity to Ireland before St. Patrick
Died 432; feast day formerly celebrated on October 7. The story of Palladius, recorded by Saint Prosper of Aquitaine, is caught up in that of Pope Saint Celestine I. Palladius, a deacon at Rome, was responsible for sending Saint Germanus of Auxerre to Britain in 429 to combat Pelagianism and in 431 was himself consecrated bishop of the Irish. He landed near Wicklow and worked in Leinster, where he encountered much opposition, but made some converts and built three churches. Acknowledging his lack of success in Ireland, he migrated to Scotland to preach to the Picts, and died soon after he arrived at Fordun, near Aberdeen.
Slide 3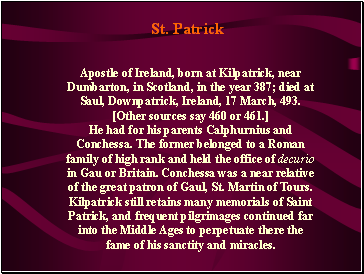 St. Patrick
Apostle of Ireland, born at Kilpatrick, near Dumbarton, in Scotland, in the year 387; died at Saul, Downpatrick, Ireland, 17 March, 493.
[Other sources say 460 or 461.]
He had for his parents Calphurnius and Conchessa. The former belonged to a Roman family of high rank and held the office of decurio in Gau or Britain. Conchessa was a near relative of the great patron of Gaul, St. Martin of Tours. Kilpatrick still retains many memorials of Saint Patrick, and frequent pilgrimages continued far into the Middle Ages to perpetuate there the fame of his sanctity and miracles.
Slide 4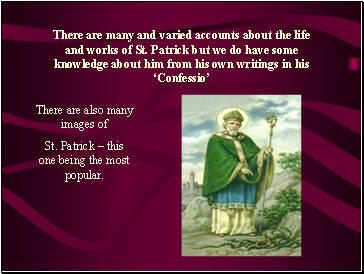 There are many and varied accounts about the life and works of St. Patrick but we do have some knowledge about him from his own writings in his 'Confessio'
There are also many images of
St. Patrick – this one being the most popular.
Slide 5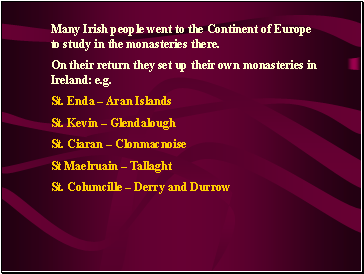 Many Irish people went to the Continent of Europe to study in the monasteries there.
On their return they set up their own monasteries in Ireland: e.g.
St. Enda – Aran Islands
St. Kevin – Glendalough
St. Ciaran – Clonmacnoise
St Maelruain – Tallaght
St. Columcille – Derry and Durrow
Slide 6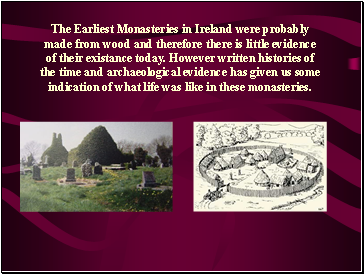 The Earliest Monasteries in Ireland were probably made from wood and therefore there is little evidence of their existance today. However written histories of the time and archaeological evidence has given us some indication of what life was like in these monasteries.
Slide 7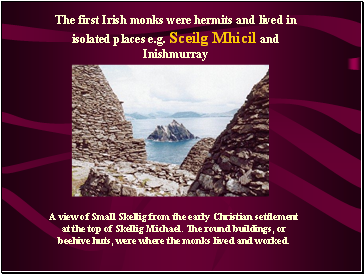 The first Irish monks were hermits and lived in isolated places e.g. Sceilg Mhicil and Inishmurray