Early Christian Ireland
Page
5
Faheen, Co. Kilkenny
Kells, Co. Meath
Monasterboice, Co Louth
5.
Slide 24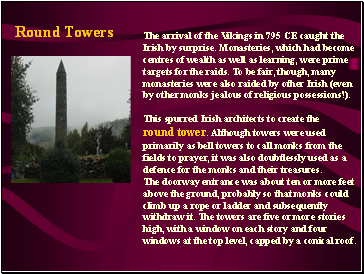 Round Towers
The arrival of the Vikings in 795 CE caught the Irish by surprise. Monasteries, which had become centres of wealth as well as learning, were prime targets for the raids. To be fair, though, many monasteries were also raided by other Irish (even by other monks jealous of religious possessions!).
This spurred Irish architects to create the
round tower. Although towers were used primarily as bell towers to call monks from the fields to prayer, it was also doubtlessly used as a defence for the monks and their treasures.
The doorway entrance was about ten or more feet above the ground, probably so that monks could climb up a rope or ladder and subsequently withdraw it. The towers are five or more stories high, with a window on each story and four windows at the top level, capped by a conical roof.
Slide 25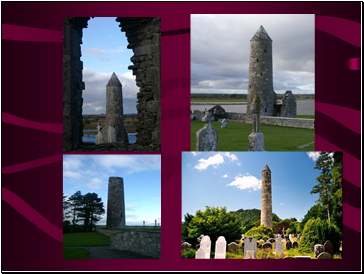 Slide 26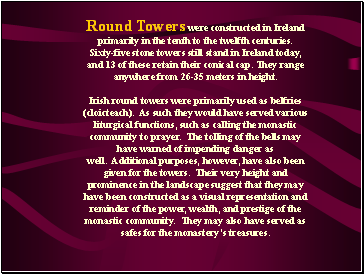 precious metal objects and illuminated manuscripts.