The French and Indian War 2
Page
1
Slide 1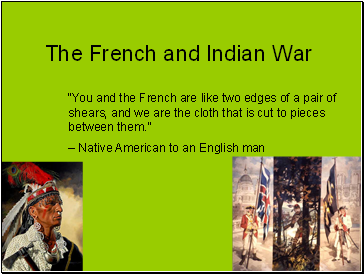 The French and Indian War
"You and the French are like two edges of a pair of shears, and we are the cloth that is cut to pieces between them."
– Native American to an English man
Slide 2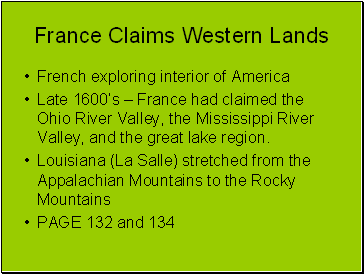 France Claims Western Lands
French exploring interior of America
Late 1600's – France had claimed the Ohio River Valley, the Mississippi River Valley, and the great lake region.
Louisiana (La Salle) stretched from the Appalachian Mountains to the Rocky Mountains
PAGE 132 and 134
Slide 3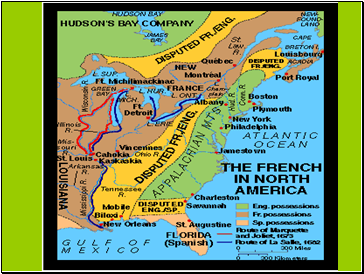 Slide 4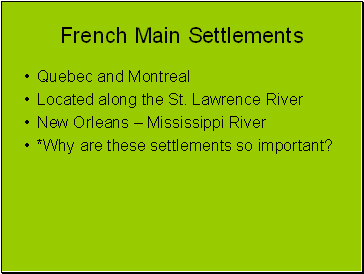 French Main Settlements
Quebec and Montreal
Located along the St. Lawrence River
New Orleans – Mississippi River
*Why are these settlements so important?
Slide 5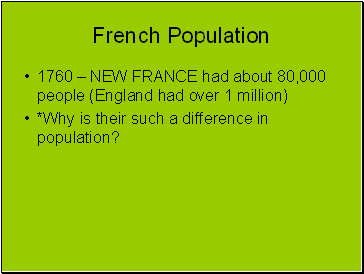 French Population
1760 – NEW FRANCE had about 80,000 people (England had over 1 million)
*Why is their such a difference in population?
Slide 6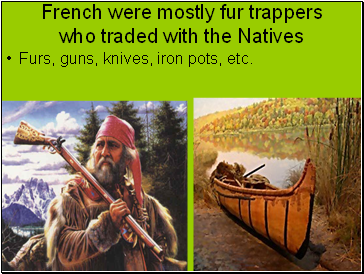 French were mostly fur trappers who traded with the Natives
Furs, guns, knives, iron pots, etc.
Slide 7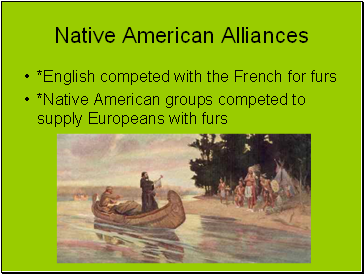 Native American Alliances
*English competed with the French for furs
*Native American groups competed to supply Europeans with furs
Slide 8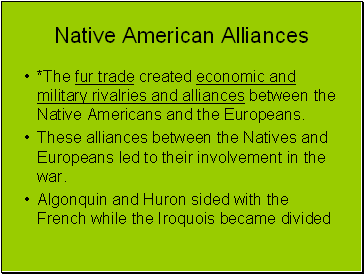 Native American Alliances
*The fur trade created economic and military rivalries and alliances between the Native Americans and the Europeans.
These alliances between the Natives and Europeans led to their involvement in the war.
Algonquin and Huron sided with the French while the Iroquois became divided
Slide 9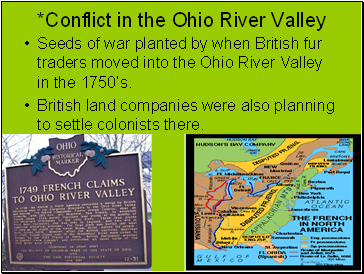 Conflict in the Ohio River Valley
Seeds of war planted by when British fur traders moved into the Ohio River Valley in the 1750's.
British land companies were also planning to settle colonists there.
Slide 10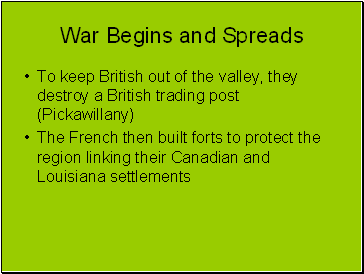 War Begins and Spreads
To keep British out of the valley, they destroy a British trading post (Pickawillany)
The French then built forts to protect the region linking their Canadian and Louisiana settlements
Slide 11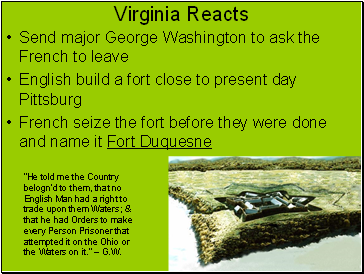 Virginia Reacts
Send major George Washington to ask the French to leave