Biomagnification
Page
1
Slide 1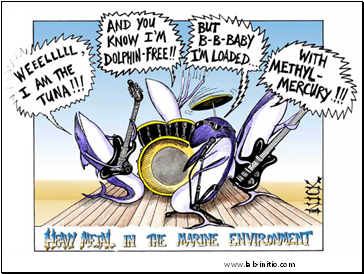 Slide 2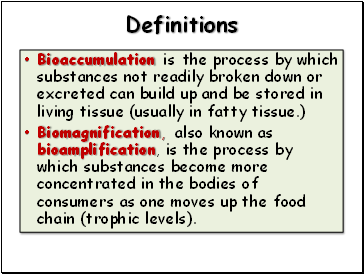 Definitions
Bioaccumulation is the process by which substances not readily broken down or excreted can build up and be stored in living tissue (usually in fatty tissue.)
Biomagnification, also known as bioamplification, is the process by which substances become more concentrated in the bodies of consumers as one moves up the food chain (trophic levels).
Slide 3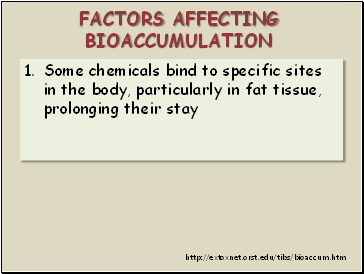 Factors affecting bioaccumulation
Some chemicals bind to specific sites in the body, particularly in fat tissue, prolonging their stay
Slide 4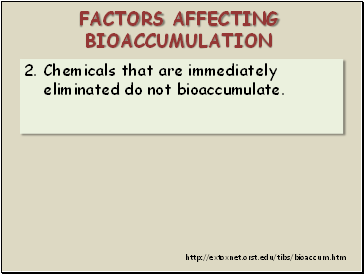 FACTORS AFFECTING BIOACCUMULATION
Chemicals that are immediately eliminated do not bioaccumulate.
Slide 5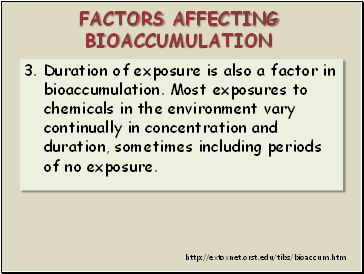 FACTORS AFFECTING BIOACCUMULATION
Duration of exposure is also a factor in bioaccumulation. Most exposures to chemicals in the environment vary continually in concentration and duration, sometimes including periods of no exposure.
Slide 6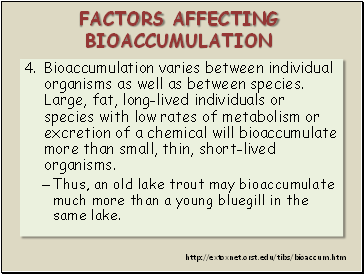 FACTORS AFFECTING BIOACCUMULATION
Bioaccumulation varies between individual organisms as well as between species. Large, fat, long-lived individuals or species with low rates of metabolism or excretion of a chemical will bioaccumulate more than small, thin, short-lived organisms.
Thus, an old lake trout may bioaccumulate much more than a young bluegill in the same lake.
Slide 7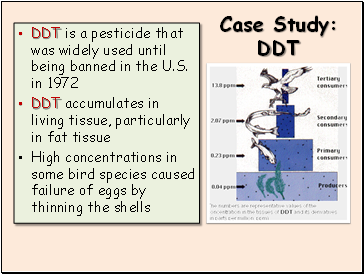 Case Study: DDT
DDT is a pesticide that was widely used until being banned in the U.S. in 1972
DDT accumulates in living tissue, particularly in fat tissue
High concentrations in some bird species caused failure of eggs by thinning the shells
Slide 8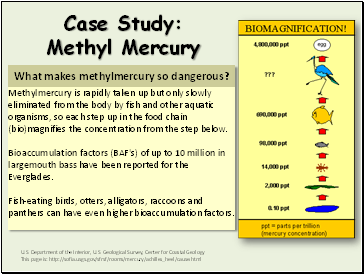 Case Study: Methyl Mercury
U.S. Department of the Interior, U.S. Geological Survey, Center for Coastal Geology This page is:
Slide 9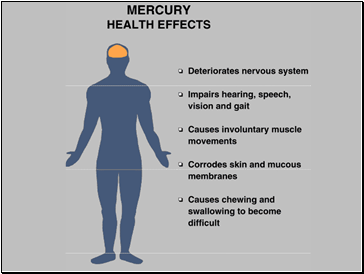 Mercury Health Effects
Slide 10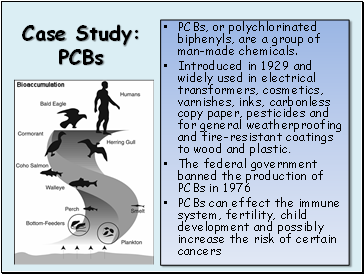 Case Study: PCBs
PCBs, or polychlorinated biphenyls, are a group of man-made chemicals.