Electron Microscope
Page
2
In transmission EM the electrons pass through the specimen
Specimen needs to be extremely thin - 10nm to 100nm
TEM can magnify objects up to 500 000 times
TEM has made it possible to see the details of and discover new organelles - see page 9 in Collins
Slide 10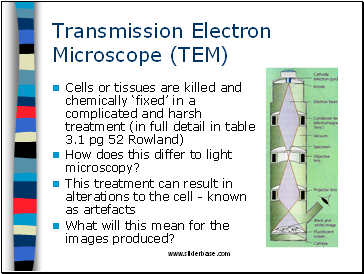 Transmission Electron Microscope (TEM)
Cells or tissues are killed and chemically 'fixed' in a complicated and harsh treatment (in full detail in table 3.1 pg 52 Rowland)
How does this differ to light microscopy?
This treatment can result in alterations to the cell - known as artefacts
What will this mean for the images produced?
Slide 11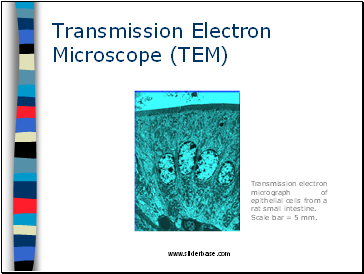 Transmission Electron Microscope (TEM)
Transmission electron micrograph of epithelial cells from a rat small intestine.
Scale bar = 5 mm.
Slide 12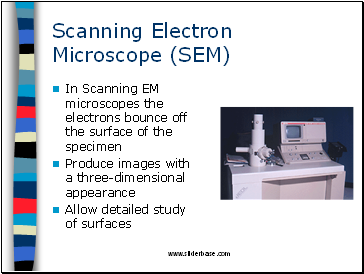 Scanning Electron Microscope (SEM)
In Scanning EM microscopes the electrons bounce off the surface of the specimen
Produce images with a three-dimensional appearance
Allow detailed study of surfaces
Slide 13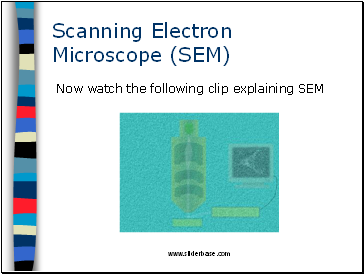 Scanning Electron Microscope (SEM)
Now watch the following clip explaining SEM
Slide 14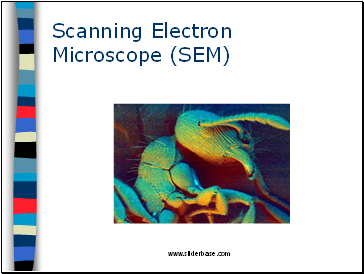 Scanning Electron Microscope (SEM)
Slide 15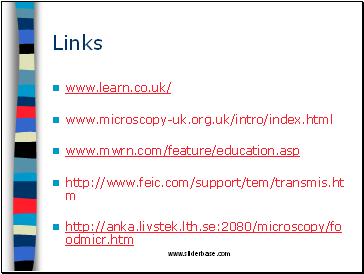 Links
www.learn.co.uk/
www.microscopy-uk.org.uk/intro/index.html
www.mwrn.com/feature/education.asp
http://www.feic.com/support/tem/transmis.htm
http://anka.livstek.lth.se:2080/microscopy/foodmicr.htm
Slide 16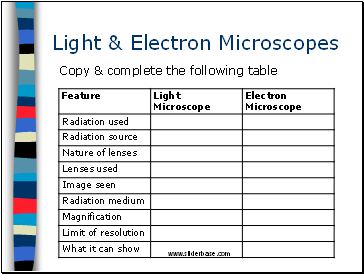 Light & Electron Microscopes
Copy & complete the following table