Making a microscope slide
Page
1
Slide 1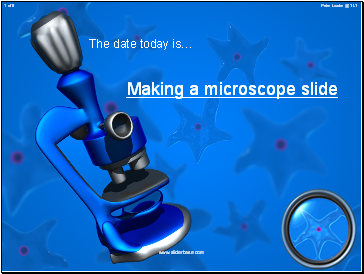 Making a microscope slide
Peter Loader @ TLT
1 of 8
The date today is…
Slide 2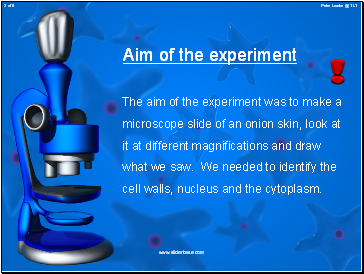 Aim of the experiment
The aim of the experiment was to make a microscope slide of an onion skin, look at it at different magnifications and draw what we saw. We needed to identify the cell walls, nucleus and the cytoplasm.
Peter Loader @ TLT
2 of 8
Slide 3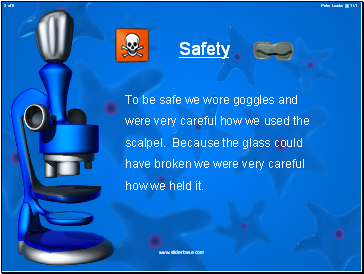 Safety
To be safe we wore goggles and were very careful how we used the scalpel. Because the glass could have broken we were very careful how we held it.
Peter Loader @ TLT
3 of 8
Slide 4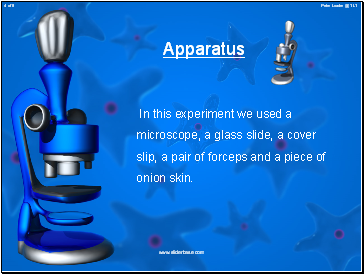 Apparatus
In this experiment we used a microscope, a glass slide, a cover slip, a pair of forceps and a piece of onion skin.
Peter Loader @ TLT
4 of 8
Slide 5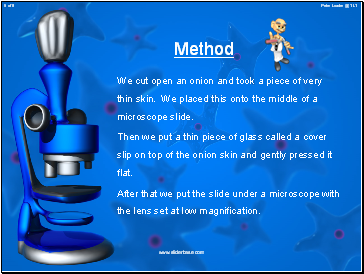 Method
We cut open an onion and took a piece of very thin skin. We placed this onto the middle of a microscope slide.
Then we put a thin piece of glass called a cover slip on top of the onion skin and gently pressed it flat.
After that we put the slide under a microscope with the lens set at low magnification.
Peter Loader @ TLT
5 of 8
Slide 6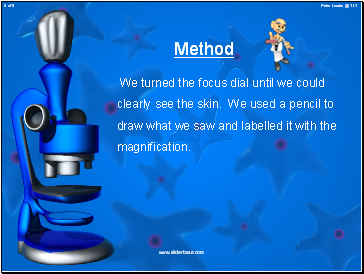 Method
We turned the focus dial until we could clearly see the skin. We used a pencil to draw what we saw and labelled it with the magnification.
Peter Loader @ TLT
6 of 8
Slide 7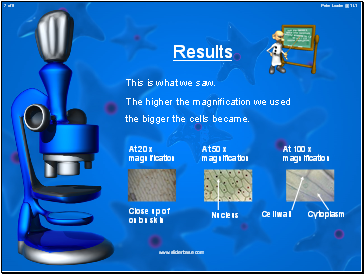 Results
This is what we saw.
The higher the magnification we used the bigger the cells became.
Peter Loader @ TLT
7 of 8
At 20 x magnification
At 50 x magnification
At 100 x magnification
Cell wall
Nucleus
Close up of onion skin
Cytoplasm
Slide 8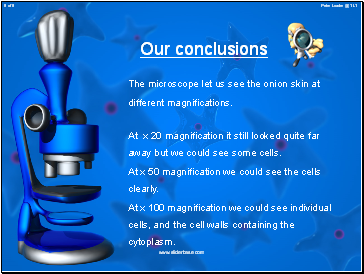 Our conclusions
The microscope let us see the onion skin at different magnifications.
At x 20 magnification it still looked quite far away but we could see some cells.
At x 50 magnification we could see the cells clearly.
At x 100 magnification we could see individual cells, and the cell walls containing the cytoplasm.
8 of 8
Peter Loader @ TLT