Earthworm
Page
2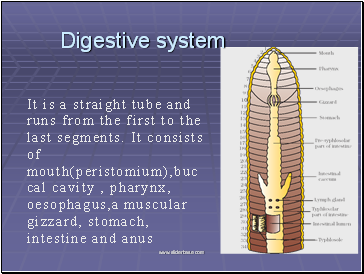 Digestive system
It is a straight tube and runs from the first to the last segments. It consists of mouth(peristomium),buccal cavity , pharynx, oesophagus,a muscular gizzard, stomach, intestine and anus
Slide 12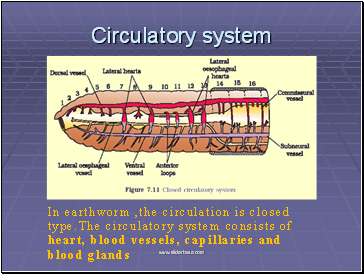 Circulatory system
In earthworm ,the circulation is closed type.The circulatory system consists of heart, blood vessels, capillaries and blood glands
Slide 13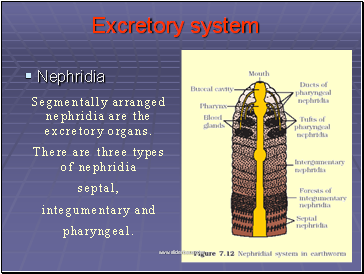 Excretory system
Nephridia
Segmentally arranged nephridia are the excretory organs.
There are three types of nephridia
septal,
integumentary and
pharyngeal.
Slide 14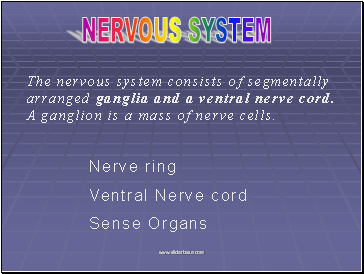 Nervous System
The nervous system consists of segmentally arranged ganglia and a ventral nerve cord. A ganglion is a mass of nerve cells.
Nerve ring
Ventral Nerve cord
Sense Organs
Slide 15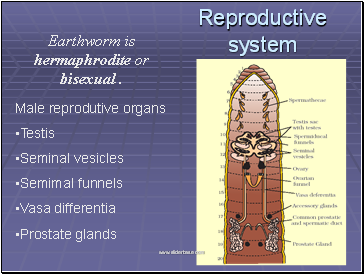 Reproductive system
Earthworm is hermaphrodite or bisexual .
Male reprodutive organs
Testis
Seminal vesicles
Semimal funnels
Vasa differentia
Prostate glands
Slide 16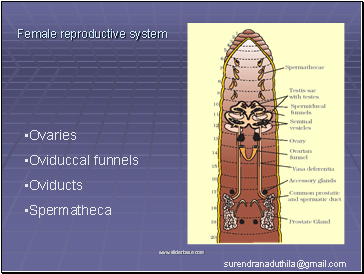 Female reproductive system
Ovaries
Oviduccal funnels
Oviducts
Spermatheca
surendranaduthila@gmail.com
Slide 17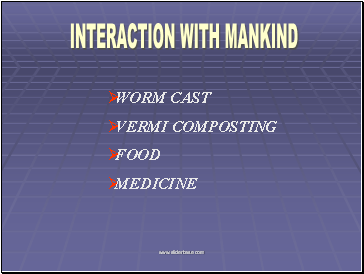 Interaction With Mankind
WORM CAST
VERMI COMPOSTING
FOOD
MEDICINE
Slide 18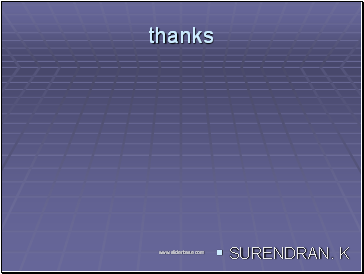 thanks
SURENDRAN. K