Photosynthesis
Page
1
Slide 1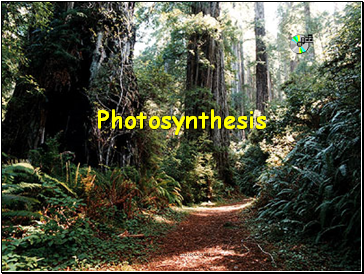 Photosynthesis
Slide 2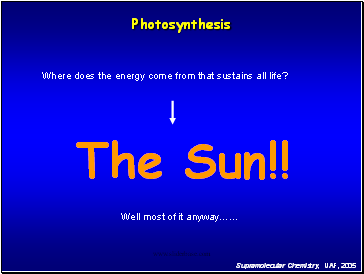 Photosynthesis
Where does the energy come from that sustains all life?
The Sun!!
Well most of it anyway……
Slide 3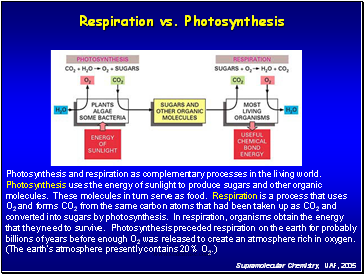 Respiration vs. Photosynthesis
Photosynthesis and respiration as complementary processes in the living world.
Photosynthesis uses the energy of sunlight to produce sugars and other organic
molecules. These molecules in turn serve as food. Respiration is a process that uses
O2 and forms CO2 from the same carbon atoms that had been taken up as CO2 and
converted into sugars by photosynthesis. In respiration, organisms obtain the energy
that they need to survive. Photosynthesis preceded respiration on the earth for probably
billions of years before enough O2 was released to create an atmosphere rich in oxygen.
(The earth's atmosphere presently contains 20% O2.)
Slide 4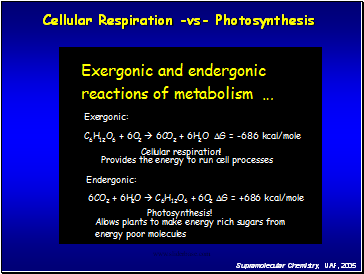 Cellular Respiration
-vs- Photosynthesis
Slide 5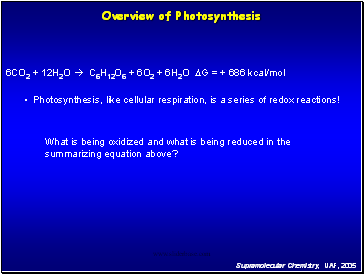 Overview of Photosynthesis
6CO2 + 12H2O  C6H12O6 + 6O2 + 6H2O DG = + 686 kcal/mol
Photosynthesis, like cellular respiration, is a series of redox reactions!
What is being oxidized and what is being reduced in the summarizing equation above?
Slide 6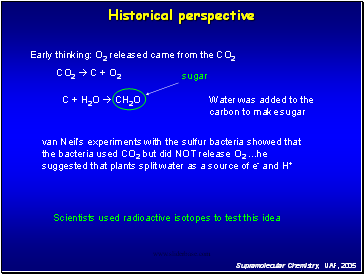 Early thinking: O2 released came from the CO2
CO2  C + O2
C + H2O  CH2O
sugar
Water was added to the carbon to make sugar
van Neil's experiments with the sulfur bacteria showed that the bacteria used CO2 but did NOT release O2 .he suggested that plants split water as a source of e- and H+
Historical perspective
Scientists used radioactive isotopes to test this idea
Slide 7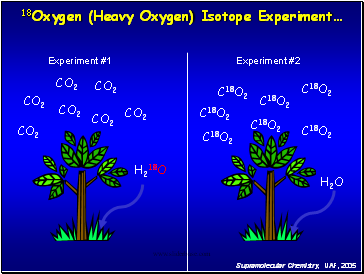 Experiment #1
H218O
CO2
CO2
CO2
CO2
CO2
CO2
CO2
H2O
C18O2
C18O2
C18O2
C18O2
C18O2
C18O2
C18O2
Experiment #2
18Oxygen (Heavy Oxygen) Isotope Experiment…
Slide 8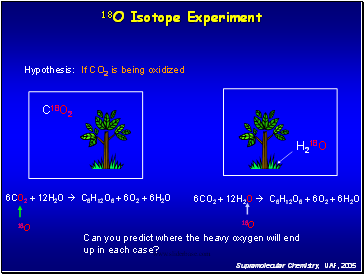 18O Isotope Experiment
6CO2 + 12H2O  C6H12O6 + 6O2 + 6H2O
C18O2
Hypothesis: If CO2 is being oxidized
H218O
18O
Can you predict where the heavy oxygen will end up in each case?
6CO2 + 12H2O  C6H12O6 + 6O2 + 6H2O
18O
Slide 9