Plant Divisions
Page
1
Slide 1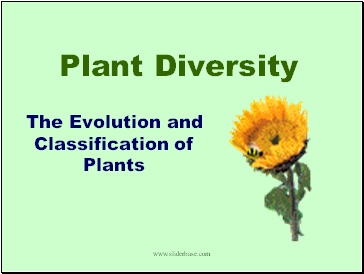 Plant Diversity
The Evolution and Classification of Plants
Slide 2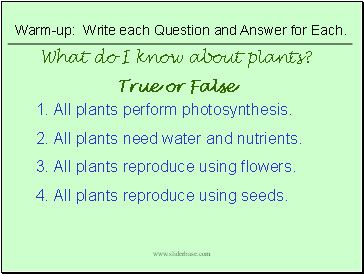 What do I know about plants?
True or False
All plants perform photosynthesis.
All plants need water and nutrients.
All plants reproduce using flowers.
All plants reproduce using seeds.
Warm-up: Write each Question and Answer for Each.
Slide 3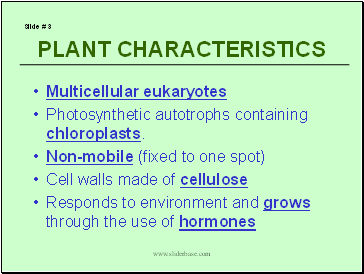 Plant Characteristics
Multicellular eukaryotes
Photosynthetic autotrophs containing chloroplasts.
Non-mobile (fixed to one spot)
Cell walls made of cellulose
Responds to environment and grows through the use of hormones
Slide # 3
Slide 4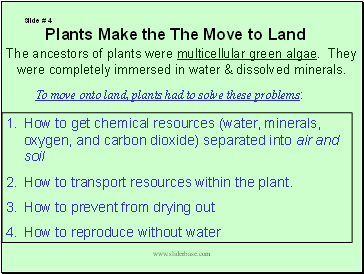 The ancestors of plants were multicellular green algae. They were completely immersed in water & dissolved minerals.
How to get chemical resources (water, minerals, oxygen, and carbon dioxide) separated into air and soil
How to transport resources within the plant.
How to prevent from drying out
How to reproduce without water
Plants Make the The Move to Land
Slide # 4
To move onto land, plants had to solve these problems:
Slide 5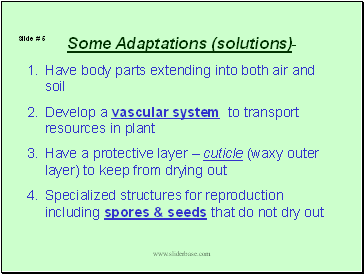 Some Adaptations
(solutions)-
Have body parts extending into both air and soil
Develop a vascular system to transport resources in plant
Have a protective layer – cuticle (waxy outer layer) to keep from drying out
Specialized structures for reproduction including spores & seeds that do not dry out
Slide # 5
Slide 6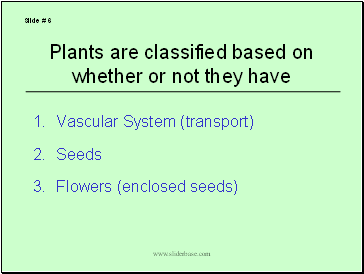 Plants are classified based on whether or not they have
Vascular System (transport)
Seeds
Flowers (enclosed seeds)
Slide # 6
Slide 7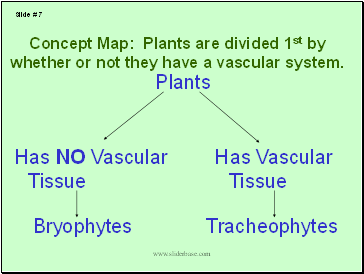 Concept Map: Plants are divided 1st by whether or not they have a vascular system.
Bryophytes
Tracheophytes
Plants
Has Vascular Tissue
Has NO Vascular Tissue
Slide # 7
Slide 8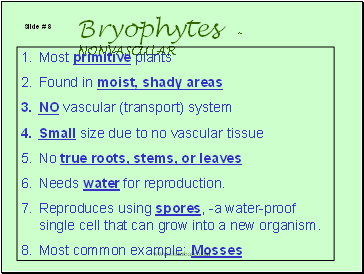 Bryophytes
-NONVASCULAR
Most primitive plants
Found in moist, shady areas
NO vascular (transport) system
Small size due to no vascular tissue
No true roots, stems, or leaves
Needs water for reproduction.
Reproduces using spores, -a water-proof single cell that can grow into a new organism.
Most common example: Mosses
Slide # 8
Slide 9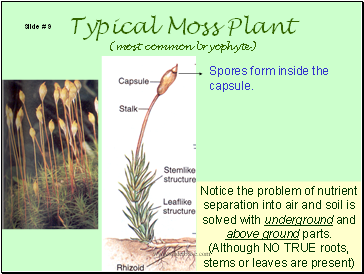 Typical Moss Plant (most common bryophyte)